Two stars shining from Hesekê: Hind and Seda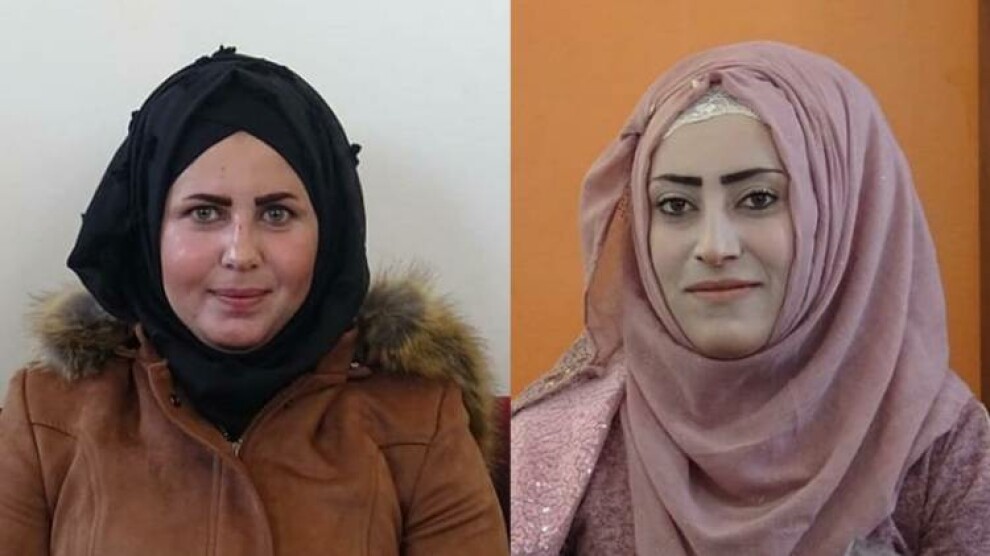 Hind and Seda are two women killed by ISIS. Their works for women's liberation has been a reason for determination in women's struggle.
HÊLÎN GEMO
Hesekê – The agenda of women's organizations in NE Syria is the killed of two pioneer women. The killing of Hind El Xidîr and Seda Feysel El-Hermas spark anger among people. The difficult lives of the two women devoted their lives to women's struggle shine a light on everyone.
Eslam Latîf El-Xidîr, known as Hind El Xidîr was born in Til El-Şayîr town of Hesekê's Al-Dashisha district. She was originally from the Jubur tribe. Her father married twice and Hind was the daughter of her father's second wife. She had a family of nine; two sisters, three brothers, her mother and father, and father's first wife. Hind El Xidîr completed her primary school education at Hedac School in Al-Dashisha. She went to Şedadê district of the Hesekê canton to receive her secondary education because there was no secondary school in her village. She stayed with her uncle in the district. After she completed her education she returned to Til El-Şayîr.
She married at 15
Many Arab tribes in the region still marry their daughters when they are children. Hind was also a victim of the customs and traditions, when she was only 15 years old, her family forced her to marry an Iraqi man. She stayed in Shengal with her husband for three months. After a while, Hind wanted to visit her family and she returned to Til El-Şayîr. That time, she was pregnant. She was arrested while crossing the border between Syria and Iraq. Her husband left her. She began to stay with her family. She had a girl. Her daughter is now four years old and Hind raised her daughter alone.
She never gave up despite challenges
Hind worked hard to join the activities of the Autonomous Administration system. She wanted to work on women's rights but her family prevented her from working by showing customs and traditions as a reason. But she never gave up and she began to work for Til El-Şayîr People's Assembly on November 1, 2020. Hind was affected by the brutal murder of Hevrîn Xelef in 2019. Therefore, she wanted to join women's struggle against all kinds of male-dominated reaction and to become the voice of women.
Seda took responsibility for two children
Seda Feysel El-Hermas was also born in Til El-Şayîr in 1993. She was originally from the Cihêşî tribe and she studied until the ninth grade. Then, she married. She had two daughters. Now her older daughter is one and a half years old, and her younger daughter is six months old. Her husband left her after the birth of her two daughters. She had to raise her two daughters alone.
Like Hind, Seda also contacted Kongreya Star, Women's Movement of NE Syria, many times and she said she wanted to work with them. And on November 1, 2020, she was elected as co-chair of Al-Dashisha civil council. Hind and Seda were from the same town and they joined the works at the same time.  
Their bodies weren't buried for eight days
Hind and Seda never gave up despite beheading threats by ISIS. ISIS members attacked their houses on January 20, 2021. Their aim was to kill Hind and Seda so they left the family members. Hind and Seda was kidnapped and killed by ISIS. The threats of ISIS continued after killing two women. Their bodies weren't buried for eight days. On January 31, 2021, Hind and Seda were sent off on their last journey in their hometown by their friends and relatives.