'Evîn Goyî fought for her people'
Evîn Goyî (Emine Kara), one of the pioneers of the Kurdish Women's Freedom Movement, was murdered in Paris on December 23. "My aunt served not only Kurdish people but also all humanity," Evîn Goyî's niece Hêlîn Kara said.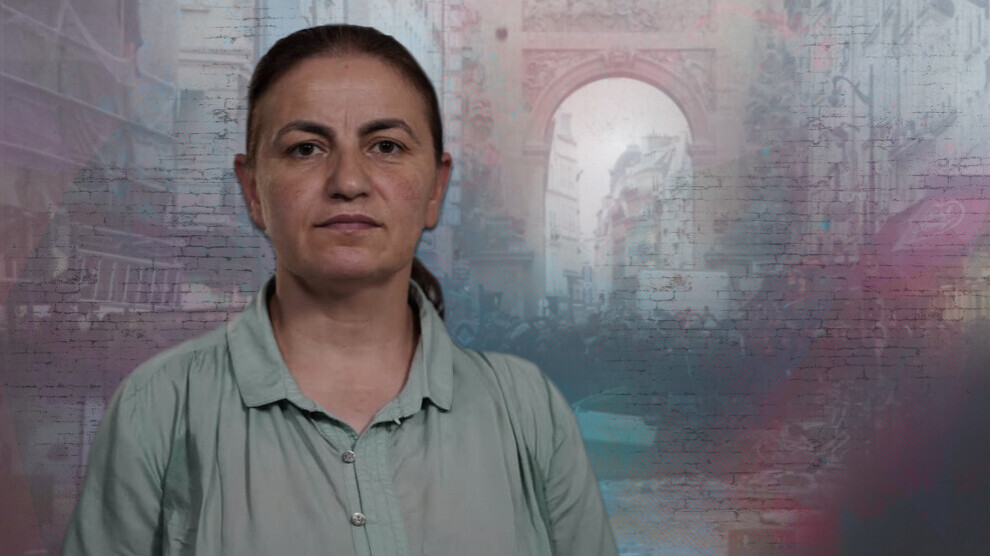 BERJÎN KARA
Mexmûr (Makhmur) - On December 23, 2022, a gun attack was carried out against the Ahmet Kaya Kurdish Cultural Center in Paris. The Kurdistan Communities Union (KCK) Executive Council Member Emine Kara (Nom de guerre: Evîn Goyi), Kurdish singer Mîr Perwer (Mehmet Şirin Aydın) and Abdurrahman Kızıl lost their lives in the massacre.
Evîn Goyî, one of the pioneers of the Kurdish Women's Freedom Movement, was a resisting woman. She was a role model for both Kurdish women and all women of the Middle East. In the place, where Kurdish activist Sakine Cansız was murdered 10 years ago, a second massacre targeting Evîn Goyî, one of the Kurdish women pioneers, took place on December 23, 2022.
In 1974, Evîn Goyî was born in the Hilal village of Şırnak's Qilaban (Turkish: Uludere) district. She witnessed the first PKK attack, led by Mahsum Korkmaz, known as Egîd, on August 15, 1984. After witnessing this attack, she was influenced by it like every Kurdish youth and took part in the Kurdish freedom movement. When she was a child, Evîn Goyî faced the occupation and oppression of the Turkish state. She witnessed how the Turkish state burned Kurdish villages down and tortured Kurdish people. The reality that Kurdish people and women faced led her to fight for the freedom of her people. In 1988, she joined the PKK. Her niece Helin Kara spoke to NuJINHA about Evîn Goyî's struggle and life.
A cowardly massacre
Helin Kara began her speech by condemning the gun attack targeting her aunt in Paris. "On December 23, 2022, a cowardly, immoral and brutal massacre took place in Paris. This attack sparked anger among Kurdish people. We know that the Turkish state has been our enemy for years and that it has been using all kinds of dirty methods to annihilate Kurdish people. The Turkish state uses inhuman practices to annihilate the Kurds. The massacre that took place in Paris was one of the inhuman practices of the Turkish state."
'She fought Daesh'
"Evîn Goyî thought the Kurdish people cannot have freedom without the freedom of Kurdish women," Helin Kara said, "For this reason, she fought the Turkish state for 34 years in all the villages and mountains of Botan and Zagros, in the mountains of Herekol and Northern Kurdistan, in Raqqa and Shengal. She made great efforts for the revolution in Rojava. She fought Daesh and played an important role in defending Daesh. She served not only Kurdish people but also all humanity. She fought the brutality of Daesh to free women. She went to Europe for treatment after being wounded while fighting Daesh."
'We should follow in the footsteps of them'
"My aunt had a life full of struggle and resistance. She made great efforts," Helin Kara said, adding, "With her struggle and resistance, martyr Evin has a special place in the hearts of everyone, the Kurdish people and all those who fight for freedom. The attack in Paris was an attack on the cause of the Kurdish people; it was against the women's struggle for freedom. Today, the stance of the Kurdish people against this massacre is very important. Martyr Evin always said, 'Martyrs are the source of the strength of our struggle,' whenever she talked about martyrs. Now, we should follow in the footsteps of them (martyrs)."
'She strengthened the women's struggle for freedom'
"Emine Kara got her strength and her will to fight from the ideology and the philosophy of Kurdish leader Abdullah Öcalan," Helin Kara said, "She grew up with Kurdish culture. She was a free woman. She was an untiring woman. She was one of the pioneers of the women's struggle. She made great efforts in strengthening the women's struggle for freedom. She also played an important role in forming women's defense units."
Helin Kara was a child when her aunt Evîn Goyî joined the struggle for freedom. "After we grew up, we understood that one of our family members was involved in the Kurdistan Revolution. I first saw comrade Evin in 1998 during her visit to our camp. I learned many things about her after her visit. Then, we saw each other many times. All our conversations were about how a woman can organize herself, what a woman can do if she believes in her power, how she can have will, how she can lead her society, how she can have a firm stance. She always told us that women should be aware of themselves, their will, protect themselves and their dignity by educating themselves."
'She fought to the end'
Helin Kara continued to talk about her aunt as follows: "We saw each other in Rojava in 2017. Since the revolution was new at the time, there was many things to be done; institutions and organizations were newly established. Comrade Evin was making great efforts for the revolution. She was very busy so we did have a short conservation at that time. Her energy and strength, her way of thinking and her life had an effect on the people around her. She was not only my aunt but also my comrade. She devoted her life to freedom. She followed in the footsteps of the resisting women, of Sakine Cansız."
'Pioneer women have been targeted'
Talking about Evîn Goyî's life full of struggle, Helin Kara said, "My aunt never took a step back from the struggle for freedom. Pioneer women have been targeted. We know that the enemy targeted the women's struggle for freedom by targeting Evîn Goyi. Evîn Goyi struggled for the unity of the Kurdish people. However, she was on December 23, 2022 at the Ahmet Kaya Kurdish Cultural Center in Paris while making preparations to commemorate those who lost their lives in the massacre that took place in Paris on January 9, 2013. She lost her life along with two of her comrades. As her family, we demand those who planned the massacre be revealed."