Country of those seeking justice: Türkiye
People seek justice across Türkiye. Women seeking justice never give up struggling in 2022.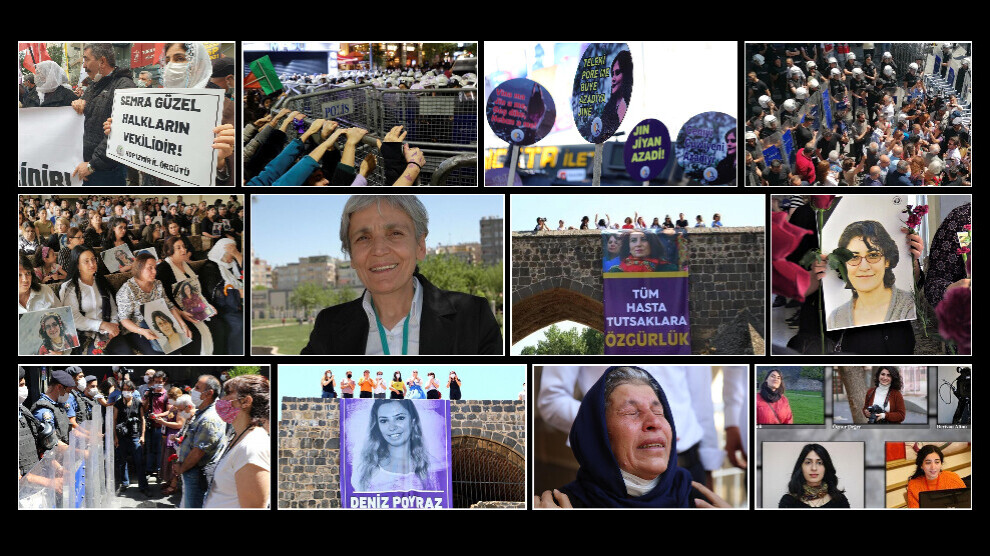 SARYA DENİZ
News Center-In 2022, justice has been sought across Türkiye. People have sought justice for their killed relatives, against unjust arrests, for Gülistan Doku, journalists, lawyers, human rights defenders and isolation. Courthouses become the spaces for people seeking justice. Despite all calls for justice, no step has been taken to ensure justice in the country. Despite being ignored, people continue to seek justice.
Prisons have turned into spaces of death
According to the figures of the Turkish Ministry of Justice, as of December 2022, the number of prisoners is 336,315. The number of prisoners has increased nearly six fold in 17 years. In the country, all opponents face terrorism charges and many have been arrested or faced prison sentence for their social media posts. In 2022, the prisoners have been subjected to rights violations, strip search and torture. In the first 10 months of 2022, 63 people died in prison. In Türkiye, prisons have turned into spaces of death.
Families of prisoners
Families of prisoners started a Justice Watch in Diyarbakır, İstanbul, Van and Izmir about a year ago. The families have demanded justice for their imprisoned relatives. They have also demanded the release of sick prisoners and the prisoners, who are not released from prison despite having completed their sentences.
The families of prisoners, who started their Justice Watch at the building of the Diyarbakır Bar Association, have been holding their action in front of the Diyarbakır Courthouse, the Council of Forensic Medicine (ATK) in Diyarbakır and Diyarbakır Courthouse every day to release press statements demanding justice and drawing attention to rights violations in prisons.
They went to Ankara twice
The families of prisoners went to Ankara on January 5, 2022 and met with political parties. The families demanded the political parties to take a step for prisoners; however, no step has been taken until now. So they went to Ankara on October 2, 2022 to make their voices heard. They had meeting with Democracy and Progress Party (Turkish: Demokrasi ve Atılım Partisi-DEVA), the Felicity Party (Turkish: Saadet Partisi-SP), the Future Party (Turkish: Gelecek Partisi-GP) and the Turkish Medical Association (Turkish: Türk Tabipleri Birliği-TTB). The families went to Ankara twice to demand the release of sick prisoners and the end of rights violations against prisoners.
Justice for Deniz Poyraz
The families of sick prisoners and the prisoners, who are not released from prison despite having completed their sentence, started a Justice Watch in Izmir on February 12, 2022. Gathering in front of the building of Izmir Bar Association, the families say they will keep holding their action until their demands are met. Fehime Poyraz, mother of Deniz Poyraz, is one of the justice seekers in Izmir. She demands everyone responsible for the murder of her daughter Deniz Poyraz to be tried and punished.
No news received from Abdullah Öcalan for 21 months
Kurdish leader Abdullah Öcalan has been held under aggravated isolation in the Imrali High-security Prison. He has not been allowed to meet his lawyers since July 27, 2011. On March 25, 2021, he had a phone call with his family members; however, the phone call was interrupted after a short time. No news has been received from Abdullah Öcalan for 21 months. Many protests and demonstrations have been held in Turkey and other countries to demand the end of the aggravated isolation imposed on Abdullah Öcalan. Women are on the frontline of these protests and demonstrations. In 2022, women have issued statements and held protests to demand the end of the isolation.
Sit-in protest for justice in Urfa
Another protest for justice has been held in front of the Urfa Courthouse.  The sit-in protest held in front of the Urfa Courthouse by Emine Şenyaşar, whose husband and two sons were murdered in the attack carried out by the relatives and bodyguards of AKP Urfa MP İbrahim Halil Yıldız in the Suruç (Kurdish: Pirsûs) district of Urfa province on June 14, 2018, and her son Ferit Şenyaşar has continued since March 9, 2021. The Şenyaşar family has demanded justice despite rainy weather, snow and hot weather.
Where is Gülistan Doku?
Gülistan Doku, a university student, has been missing since January 5, 2020. The family of Gülistan Doku held a sit-in protest in front of the Tunceli Courthouse to demand justice. Although the family has asked "Where is Gülistan Doku?" everywhere, the family has received no response. The mother, father and sister of Gülistan Doku went to Ankara and requested to have a meeting with the Justice Minister; however, police attacked and detained them. The Doku family still asks where Gülistan Doku is.
For convicts of the Gezi trial
Eight people, including Mücella Yapıcı, Can Atalay and Tayfun Kahraman were sentenced to prison in the Gezi Park trial. After the verdict, the Union of Chambers of Turkish Engineers and Architects (Turkish: Türk Mimarlar ve Mühendisler Odası Birliği-TMMOB) launched a protest demanding justice for the convicts of the Gezi trial. The protest has been held for more than 250 days.
Çorlu railway accident
A train derailed in the Çorlu district of Tekirdağ on July 8, 2018. In the derailment, known as Çorlu railway accident, 25 people, including seven children, lost their lives and more than 300 were injured. Four years have passed since the accident took place. The relatives of killed and injured people have been seeking justice and waiting for those responsible to be tried and punished.
Relatives of disappeared people
The Human Rights Association (IHD) Diyarbakır Branch executives and the relatives of the forcibly disappeared people have gathered in front of the Human Rights Monument in Koşuyolu Park for more than 700 days to demand justice for their disappeared relatives.
Saturday Mothers
The Saturday Mothers/ Peoples have asked for the whereabouts of their forcibly disappeared relatives for years. "We have been looking for our loved ones. We demand justice. We struggle to make our voices for justice heard," they say every week. They also demand the ban on Galatasaray Square be lifted.
Suruç and Ankara Massacres
The families of 33 people, who were killed in the Suruç suicide attack, known as the Suruç Massacre, have been waiting for justice since July 25 2015. On October 10, 2015, ISIS carried out a bombing attack on the Labor, Peace and Democracy rally. The families of the Ankara Massacre have demanded justice since 2015.
They demand the release of Şebnem Korur Fincancı
The Union of Turkish Bar Associations (TBB) has been holding a protest demanding the release of Şebnem Korur Fincancı, the president of the Turkish Medical Association's Central Committee, for four weeks. Professor Şebnem Korur Fincancı was arrested on October 27 and she has been accused of "making propaganda for a terrorist organization" for her statements on the alleged use of chemical weapons in the Kurdistan Region.