SDC Co-chair Emine Omer: Attacks will deepen the Syrian crisis
Speaking about Turkey's threats of a military offensive in NE Syria, Syrian Democratic Council (SDC) Co-chair Emine Omer said, "They will deepen the Syrian crisis."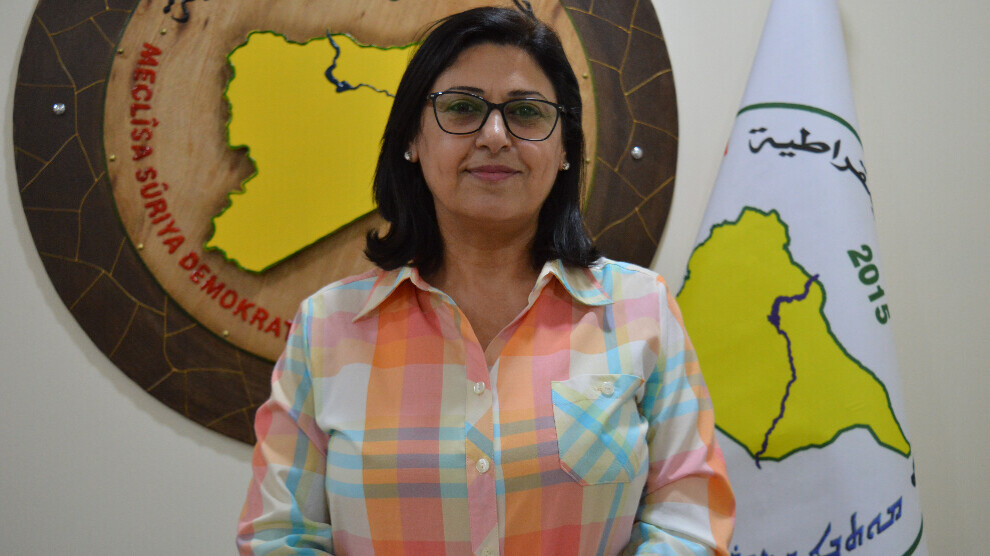 Qamishlo- Turkey keeps renewing the threat of a military offensive in NE Syria under the pretext of "security concerns". Turkey does not hesitate to announce that it plans to launch a new comprehensive offensive and create a chaotic environment while intensifying its attacks in the region. Despite the ceasefire agreements signed between the US-Turkey and Russia-Turkey on 7-22 October, Turkey continues to shell the region. Recently, Turkey announced the plan to relocate 1,5 million of Syrian refugees living in Turkey to "safe areas" inside Syria and it plans to launch new attacks in the region on the grounds of "forming a safe zone."
NuJINHA spoke to Emine Omer, Co-chair of the Syrian Democratic Council (SDC or MSD), about the latest developments in the region and the effects of the plans on the region.
"The threat concerns the whole world"
Speaking about the aim of the threats of a military offensive in NE Syria, she said:
"Today, we have been going through a sensitive period in which the dreams and threats of the Turkish state towards Syrian territory are intensifying. The Turkish state aims to achieve political gain by attacking the region.  A possible new military offensive of the Turkish state will cause many problems. We may face many problems such as the revival of ISIS and new immigration waves. The attacks will pose a danger not only to us, but also to the whole world. Therefore, the threat of the Turkish state concerns the whole world. Thousands of forcibly displaced people from other parts of Syria have taken shelter in our region. The new military offensive will force these people to be displaced again."
"The aim is to change the demographic structure of the region"
Emphasizing the "security concerns" of the Turkish state, Emine Omer said, "The Turkish state talks about the formation of a 'safe zone' along its border with Syria. What will this safe zone be like? The Turkish state aims to change the demographic structure of the region on such grounds. It aims to displace the people of the region to settle other people.  Likewise, it aims to deepen the chaos in Syria and to destroy the unity of the peoples.
"The people living in Turkey's safe areas demand Turkey to leave their regions because they are subjected to torture and inhuman practices. The rights violations faced by the people living in the areas occupied by Turkey show how the safe zone of Turkey could be. A dirty policy is being carried out under the leadership of the Turkish state. The rights violations committed by the Turkish state in the occupied areas are war crimes and the Turkish state should be prosecuted for its war crimes in the occupied areas."
Why does Turkey target Tal Rifaat and Manbij?
Emphasizing the importance of Tal Rifaat and Manbij, targeted by the Turkish state, Emine Omer said, "The Turkish state cited Tal Rifaat and Manbij as targets for its military operation. The Turkish state targets them because it aims to disconnect the cantons of North and East Syria. Manbij is the home of Kurds, Circassians and Arabs. The Turkish state targets Manbij to destroy the unity of the peoples in Manbij. Tal Rifaat has hosted many displaced people from Afrin and the aim of the Turkish state is to displace the people of Afrin again. It also aims to revive ISIS sleeper cells because it supports ISIS."
"The Syrian government should exhibit a stronger attitude"
"The Turkish state is attacking Syrian territory in front of the whole world. It has openly violated the rights of the people," Emine Omer said, "The Syrian government exhibited an attitude against the Turkish attacks in Syria but it should have exhibited a stronger attitude. Because the Turkish state has been occupying the regions in Syria one by one. We want to solve problems through dialogue. We are not pro-war. Currently, everyone wants to protect their own interests in our region and no serious stance has been taken against the attacks of the Turkish state until now."