"Displaced women can play a key role"
Hacer Nasif is a forcibly displaced woman trying to build a new life amid the ruins of war for years. She keeps struggling by involving in the activities for the Future Syria Party in Manbij.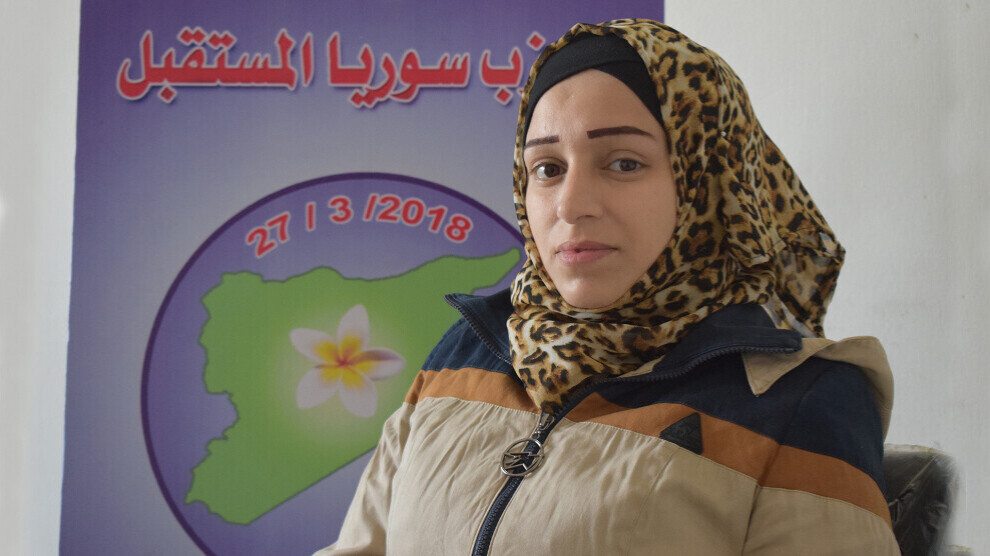 SÎLVA EL-ÎBRAHÎM
Manbij- In recent years, the Syrian people have been facing a great tragedy. They have been struggling for having a peaceful, safe and free life. Despite the ongoing chaos in the region, many women try to give hope to the people. Hacer Nasif is one of these women. After being forcibly displaced from Idlib to Manbij, she became a member of the Future Syria Party to carry out activities for the people of the region
Emphasizing that she had to leave Idlib due to the worsening living conditions, Hacer Nasif said, "I had to leave my city, where I had lived for years, due to ongoing clashes, the economic crisis, lack of social services, and the increasing unemployment rate. It wasn't a safe place for us due to the ongoing clashes and conflicts. Every day, women were abducted, killed, and raped. We went to Afrin in 2013 and rebuilt our life there. Our children sent our children to school but our peaceful life there didn't last long. Because the Turkish state attacked Afrin and forced the people of Afrin to leave their homeland. We were among the people, who went to Tall Rifat. But the situation in Tall Rifat was also not good due to the attacks of the Turkish state."
In 2019, Hacer Nasif and her family settled in Manbij. "Moving from one place to another is not easy. You go to someplace and rebuild your life there but then you are forced to leave. Despite everything, we rebuilt our lives and began to send our children to school. What I faced during my journey from Idlib to Manbij enabled me to be a member of the Future Syria Party because it defends the rights of all peoples living in Syria."
"I chose to struggle instead of giving up"
After being a member of the party, Hacer Nasif improved herself in politics.
"Idlib is currently under the occupation of armed factions. I chose to struggle instead of giving up by being a member of the party. Displaced women can play a key role in their society. The Future Syria Party is the party of all people living in Syria. Each member of the party represents their society and city. Our party aims to open offices in all cities of Syria."