Women working in Hevsel Gardens: We need a farmers' market to sell our vegetables
Züleyhan Sezgin is a farmer working in the Hevsel Gardens. "Our incomes don't meet our expenses due to the increasing price hikes. We could plant vegetables only in a field because we couldn't buy fertilizer," she says.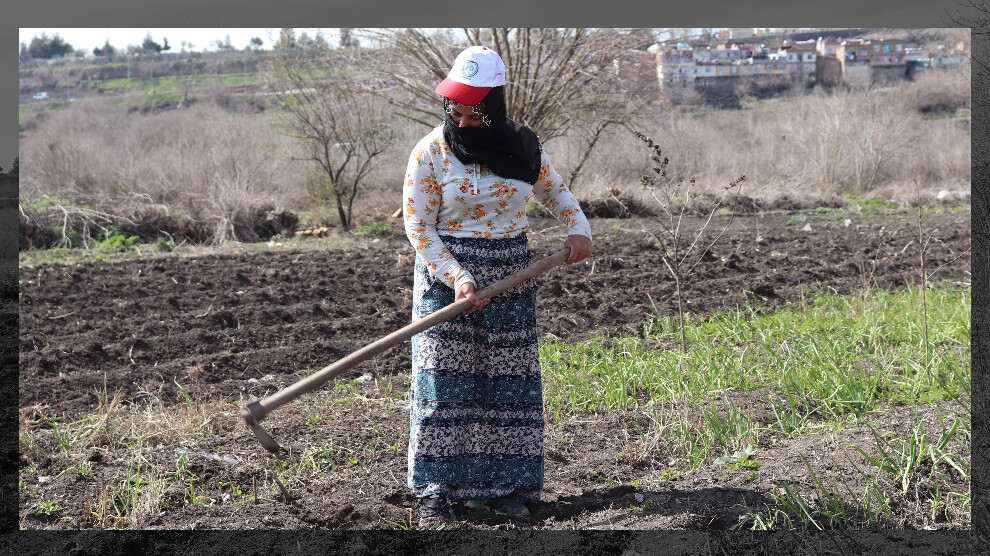 MEDİNE MAMEDOĞLU
Amed - The recent increasing price for diesel fuel and fertilizer has also reduced the production in agriculture in Turkey. As the weather is getting warmer, women farmers working in the Hevsel Gardens, which were added to the UNESCO World Heritage Site in 2015, have already begun to plant vegetables; however, most of the fields in the gardens are left unplanted due to the high prices of diesel fuel and fertilizer. The women, who mostly plant vegetables such as lettuce, leek, onion, and leafy green vegetables, want a women's market to be opened in the district of Sur in order to sell their vegetables at a cheap price.
They begin to work early morning
Züleyhan Sezgin, who starts to plant the seeds after hoeing and raking her field early morning, works with her children in the field until the evening. She told us that they sell the vegetables and take some of them to home to eat. This year, they plant leek and leafy green vegetables only for themselves because they cannot sell vegetables as before. They begin to work in the gardens in the spring and end working in autumn.
"Our fields remain unplanted due to high prices of fertilizer"
Züleyhan Sergin and her family plant only one of their fields this year because they couldn't buy fertilizer due to its high prices. Stating that their incomes don't meet their expenses, she said, "I don't work only in the field; I also look after my children and bring them to the field. If I had my own field, I wouldn't plant anything because our incomes really don't meet our expenses. We are doing very hard work, but we don't receive recompense for our work. Everything is very expensive, the diesel fuel and fertilizer are very expensive. We cannot employ workers because we cannot pay them. The government should give us fertilizer to us or they should support us."
"We want a women's market to be opened"
Züleyhan Sezgin stated that as women farmers, they asked the municipality to open a women's market in the district of Sur, "But nothing has been done until now. If there was a women's market in Sur, we would still sell our vegetables. But now we sell them to sellers.  They buy vegetables at a very cheap price from us but sell very expensive. Many women work in the Hevsel Gardens and we, as women farmers, want to have a women's market to sell our products."