Women work, socialize at all-women's market
The Women's Products Market opened by the Qamishlo Municipality is both a workplace and a space for women to socialize. Women working in the market read books written by female authors while drinking coffee or tea. Now, women have 14 stores in the market and they earn a living by selling their products.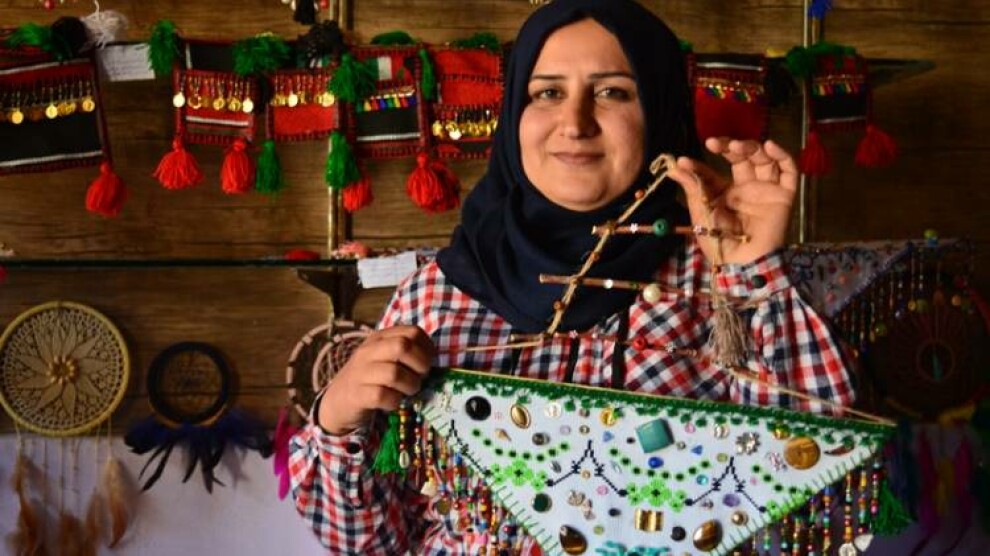 ROJ HOZAN
Qamishlo - The Women's Products Market was opened on March 7, 2021, in the Arbewiyê neighborhood of Qamishlo by Qamishlo Municipality. Now, there are 14 stores in the market. In the market, women sell their products such as clothes, handicrafts, daily products, and books. As the market adds a new breath to the city, it has become a center for women who want to work or open a store. Berivan Omer, vice-chairperson of the Regional Management and Ecology said that there is an all-women's market not only in Qamishlo but also in other cities such as Dêrik and Amûdê.
"It is a living space for women"
Berivan Omer told us that as Qamishlo Municipality, they decided to open the market upon the demands of women, "Many women applied to us. The women needed a space to sell what they produce. We did our best to design the women's market to meet women's needs. It is a space for women to work, sell what they produce, do shopping, read books written by female authors, and have coffee and tea. It is not only a women's market but also a living space for women."
"Women worked shoulder to shoulder"
Women's organizations supported the municipality to open the market. "Women worked shoulder to shoulder to open the Women's Products Market. It is a space having no workers-bosses concept; it aims to create a collective life with women's perspective. We have many positive feedbacks. The women coming to here from other cities like this idea very much when they see the market," said Berivan Omer noting that Syria is economically going through difficult times, "The daily increase in the dollar makes the economic crisis worse. This market allows women to sell what they produce in order to overcome this economic crisis."
Asya Hacî: Women work in solidarity with each other
Asya Hacî has an eyeglasses store in the market. She told us that she sells the best quality eyeglasses for both women and children, "It is a great feeling to have space where men have no effect on us. As women, we work in solidarity with each other. We do our best to make our market a good model so that women can socialize more."
Ala Omer: I both sell and teach
Ala Omer is another woman, who has a store in the market. She makes beautiful handicrafts at her home and sells them in her store, "Every woman wants her house to look beautiful, and women begin to buy what they need for their homes from here. The women's market reflects women's solidarity. I both sell what I produce and teach women how to make handicrafts."