The revolution that changed the world and women-2-
After the revolution, many things changed, particularly for women; everything was ready to change gender-based inequality. In the second part of our article series, we prepare the portraits of the women who led the revolution.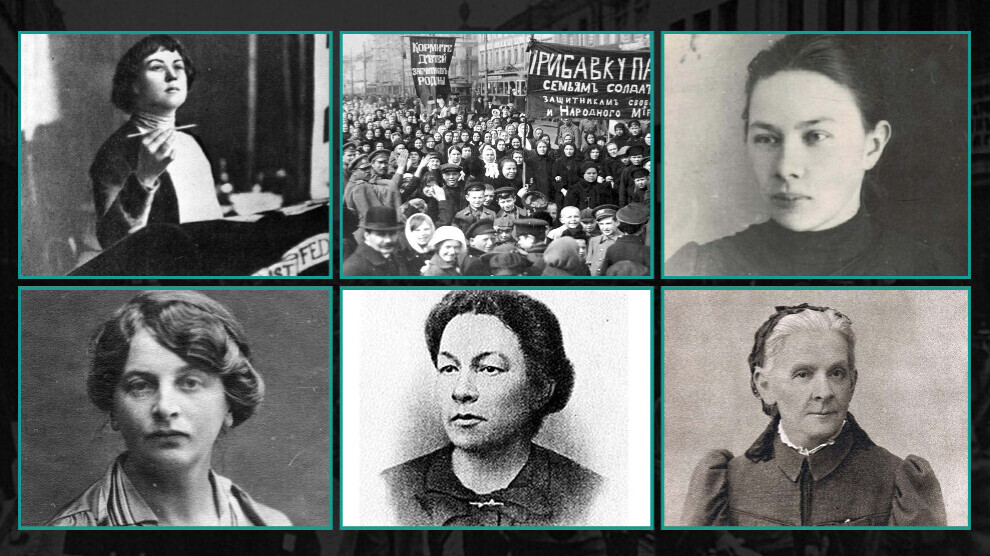 News Center- The October Revolution brought substantial changes to the lives of women. The Family Code of 1918 gave women equal status to men, granted illegitimate children the same legal rights as legitimate ones, secularized marriage, and allowed a couple to take either the husband or wife's name once married. The new government decreed an abolition of private property and the redistribution of the landed estates among the peasantry. Peasant women thus became owners of their own lands.
Activities for women
After the revolution, important and great activities were carried out to raise the cultural level of women, to establish schools and courses where they could acquire a profession or improve themselves. In 1919, a Women's Bureau was established. The purpose of the bureau was to disseminate propaganda among working class women and attempt to engage them in public life and the revolutionary process. Many women began to work in administrative positions, in distribution of consumer goods, institutions, kindergartens, public laundries, etc.
Education for women
Women launched campaigns to increase the rate of literacy among women. Courses of literacy were opened in factories, farms and villages. Before World War II, education became compulsory.
In 1936, 39% of all the women employed in the U.S.S.R. were working in large-scale industry or the building trades, 15% were employed in shops, stores, etc. transport and public catering establishments, 20% were doctors or teachers, and only 2% were domestic workers, or servants, to use the terminology of the old days. The remaining 24% worked in various other branches of industry, science or the arts. Women had a seven-hour working day, and in many branches a six-hour day.
Many women led the revolution and the changes for women. We prepare the portraits of some of these women.
Alexandra Kollontai
Alexandra Mikhailovna Kollontai was a Russian revolutionary, politician, diplomat and Marxist theoretician. Clara Zetkin had a great influence on her activity in defining the principles of the women-workers movement in Russia. Alexandra Kollontai published her book entitled, "The Social Basis of the Women's Question," in 1919. She viewed marriage and traditional families as legacies of the oppressive, property-rights-based, egoist past. She was the first woman in history to become an official member of a governing cabinet. She served as the People's Commissar for Welfare between 1917 and 1918 and played an important role in preparing the Family Code of 1918. She was the first Soviet female diplomat. She was appointed to various diplomatic posts abroad, serving in Norway, Mexico and Sweden.
Nadezhda Krupskaya
She is known as one of the architects of the education system after the revolution. Before the revolution, she worked for five years as an instructor for a factory owner who offered evening classes for his employees. She taught reading, writing and arithmetic. Nadezhda reflected her revolutionary personality and established the revolutionary classes. Nadezhda and other instructors were relieved of duty when nearly 30,000 factory workers in the area went on strike for better wages. She was instrumental in the foundation of the educational system and was also fundamental in the development of librarianship. She became a member of the Central Committee of the Communist Party in 1924. The asteroid 2071 Nadezhda discovered in 1971 by Soviet astronomer Tamara Mikhailovna Smirnova was named in her honor. Nadezhda Krupskaya is the most important proof that women have written their names from the ground to the sky in the struggle for revolution and socialism.
Inessa Armand
She was a French-Russian communist politician, member of the Bolsheviks and a feminist who spent most of her life in Russia. She also began work editing Rabotnitsa (The Woman Worker) and wrote many articles. In 1903, she joined the illegal Russian Social Democratic Labor Party. After her arrest in June 1907 she was sentenced to two years' internal exile in Mezen in Northern Russia. In November 1908, she managed to escape from Mezen and eventually left Russia to settle in Paris, where she met Vladimir Lenin and other Bolsheviks living in foreign exile. In 1911, she became secretary for the Committee of Foreign Organizations established to coordinate all Bolshevik groups in Western Europe. She returned to Russia in July 1912 to help organize the Bolshevik campaign to get its supporters elected to the Duma, and find out what was going on in Pravda. She was appointed as the Bolshevik representative to the International Socialist Bureau conference in Brussels in July 1914. In March 1915, she went to Switzerland where she organized the anti-war International Conference of Socialist Women. In 1919, a Women's Bureau (Zhenotdel) was established, initially led by Alexandra Kollontai, Inessa Armand and Nadezhda Krupskaia.
First woman buried in Red Square
She contracted cholera and died in September 1920. After her death, Nadezhda Krupskaya wrote about her. "Inessa was moved to socialism by the image of women's rights and freedom in What Is To Be Done? Like the heroine, she broke her ties with one man to live with another, concerned herself with good deeds to redeem the poor female and the prostitute, tried to solve the problems of woman's too servile place in society." Inessa Armand was the first woman, who was buried in Mass Grave No. 5 of the Kremlin Wall Necropolis in Red Square, Moscow.
Maria Alexandrovna Ulyanova
She was educated at home, studying German, French and English as well as Russian and Western literature. In 1863, she took an external degree and became an elementary school teacher. However, she would go on to dedicate most of her life to raising her children. She displayed courage and firmness in the face of tragedies and misfortunes that would haunt her family during her lifetime. She died on July 25, 1916 before the revolution.
Natasha Bolshevikova
She was known as "A Bolshevik Woman Organizer". She was a Bolshevik revolutionary and a founding editor of the Russian newspaper, Pravda, in 1912. Her real name was Konkordiya Nikolavna Samoilova but she used the name Natasha Bolshevikova. She graduated with a gold medal from gymnasium in Irkutsk. She took part in her first demonstration in February 1897 while she was a university student studying Bestuzhev Courses in St. Petersburg. In 1901, she was expelled from school after three months in prison. In 1902, she received a passport and left for Paris to study Marxism at the Free Russian School of Social Sciences where the lecturers included Vladimir Lenin and Julius Martov and eventually joined their newspaper Iskra as a journalist. In 1903, she joined the Russian Social Democratic Labor Party. She returned to Russia to practice what she learned. She was instrumental in organizing strikes at factories, clubs, meetings, socialism lessons and textile, mining, metal, port, oil workers, women workers and housewives. She was one of the best organizers and propagandists of the revolution. She devoted her life to the revolution. She died of cholera on June 2, 1921 in Astrakhan.
ENDED