Mariam Assi realizes her dream of recycling
Lebanese artist Mariam Assi has realized her dream of recycling waste glass to protect the environment.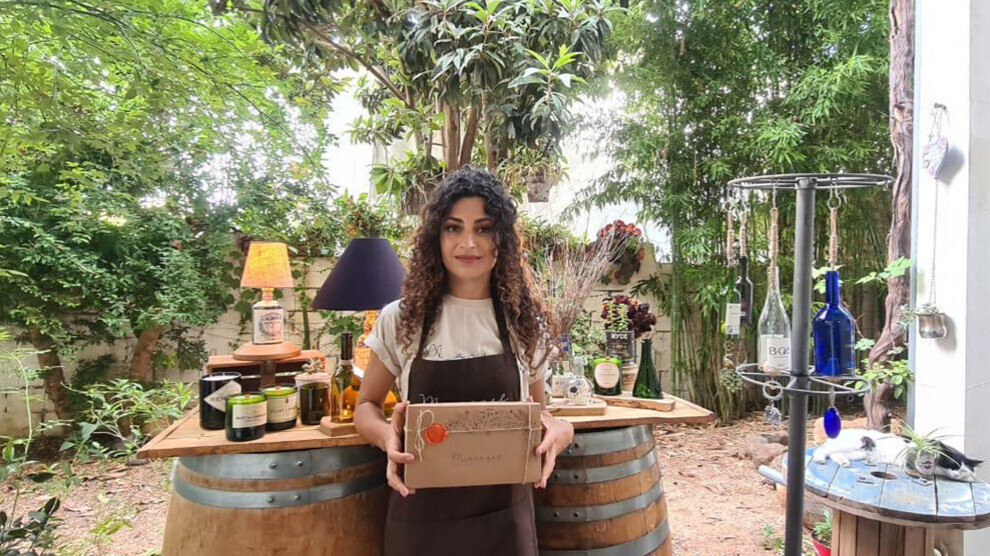 CAROLINE BAZZI
Beirut - Lebanese artist Mariam Assi started her cycling project in 2016 at the peak of Lebanon's garbage crisis that broke out in 2015. Since then, she has protected the environment by cycling waste glass into artwork.  
"I recycle waste glass to create artworks"
Indicating that her career in recycling began at the end of 2016, Mariam Assi told NuJINHA that she collects waste glass and turns them into artworks such as pots, ashtrays, candles, and even lamps by recycling them.
"When the garbage crisis broke out, I watched many social media videos about recycling waste. Since I had free time, I thought I could realize my dream by recycling waste. I tried to recycle many waste materials in the beginning but then I started collecting waste glass and recycling them because glass can be recycled many times without loss of quality. I protect myself by wearing protective clothing since broken glass can be dangerous," she told us.
"I believed in myself and realized my dream"
Stating that she did not know how to cut glass bottles when she started her project, Mariam Assi said that she learned everything by working hard. "After learning how to recycle waste glass, I bought special tools for recycling and started my project. I left my job for a magazine I had been working for nearly ten years and focused on my new job, recycling glass bottles. I always believed in myself to be successful in recycling, if I focused on it. Actually, this project was my dream and I realized my dream. I also created my own brand named Marazal. Everyone likes my project because it protects our environment and nature. Although small projects need funds, I haven't received any financial support for my project. When I received my salary, I saved a small amount to buy materials for my project. But I received moral support from my family and friends. No one can survive without moral support. My project includes many lessons and messages. It shows that when a woman decides to start a project or business, she will see that the whole world supports her.