Displaced women living in Washokani camp: "The world remains silent"
Displaced women living in the Washokani camp said, "The world remains silent against what is going on. We live in difficult conditions but no one helps. We do not know from whom we should ask for support anymore."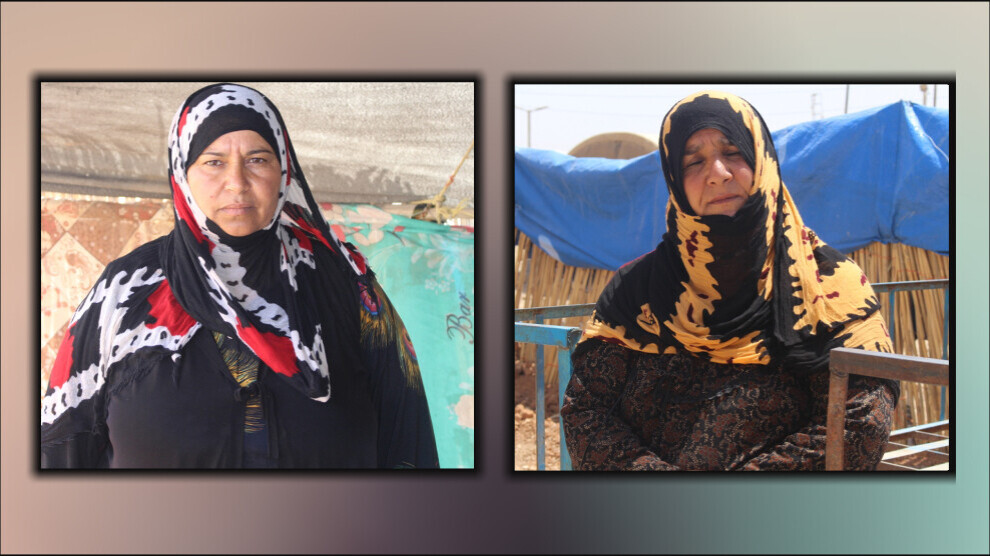 RONÎDA HACÎ
Hasakah- On May 4, Turkey's President Erdoğan announced that they would build houses in the occupied regions such as Afrin, Ezaz, Bab, Jarablus, Girê Spî and Serêkaniyê and settle one million refugees there. The IDPs living in the Washokani camp located in the Hasakah governorate express their reaction to this project.
"Where are human rights?"
Şemsa Mihemmed Bekir, a displaced woman living in the camp, said that Turkey has violated a crime against humanity by starting such a project. "The Turkish state aims to settle Syrian refugees in the occupied regions. The Turkish state has occupied our homelands on the ground that it has been establishing a safe zone. I want to ask this question: Why didn't it want to establish a safe zone when Serêkaniyê was under the control of ISIS and Jabhat al-Nusra? Everyone knows that ISIS poses a great threat to the people all over the world," she said, "We had to leave our homeland because women, children and elders were killed and banned weapons were used. For this reason, we live in difficult conditions in the camp. But other people will be settled in our homeland. Where are human rights?"
"Our children will thwart their plan"
Speaking about a joint plan against the people in the region, Şemsa Mihemmed said, "All states unite against the people of NE Syria. When Russia started the war in Ukraine, everyone spoke out against this war. But they remain silent against the killing of people in our region. All states unite against us. The states and UN Security Council can stop Turkish attacks by making a decision. However, they remain silent because they support Turkey. Living in our homeland is our right. Our children, members of SDF, will thwart their plan."
"We do not know from whom we should ask for support anymore"
Minîfa Emîn, another displaced woman living in the Washokani camp, pointed out that Turkey wants to revive the Ottoman Empire and said, "We had our houses and lands. Why do we have to live in tents now? Because our lands have been occupied by a state. This is a crime against humanity. Serêkaniyê is the homeland of our ancestors. The world remains silent against what is going on. We live in difficult conditions but no one helps.We do not know from whom we should ask for support anymore. We live in very bad conditions in the camp. Our tents are very old. Human rights organizations don't provide support. A dirty war has been waged against us."
"Recognize the Autonomous Administration"
Calling on the government in Damascus to recognize the Autonomous Administration, Minîfa Emîn said, "All problems will be resolved when they recognize the Autonomous Administration. If the government wants to protect Syria, it will never accept the Turkish occupation."