Heavy rain compounds misery of earthquake survivors in Semsûr
Although weeks have passed since the Maraş earthquakes, the quake survivors in Semsûr still suffer from the lack of tents and containers. For two days, they have also struggled against heavy rain.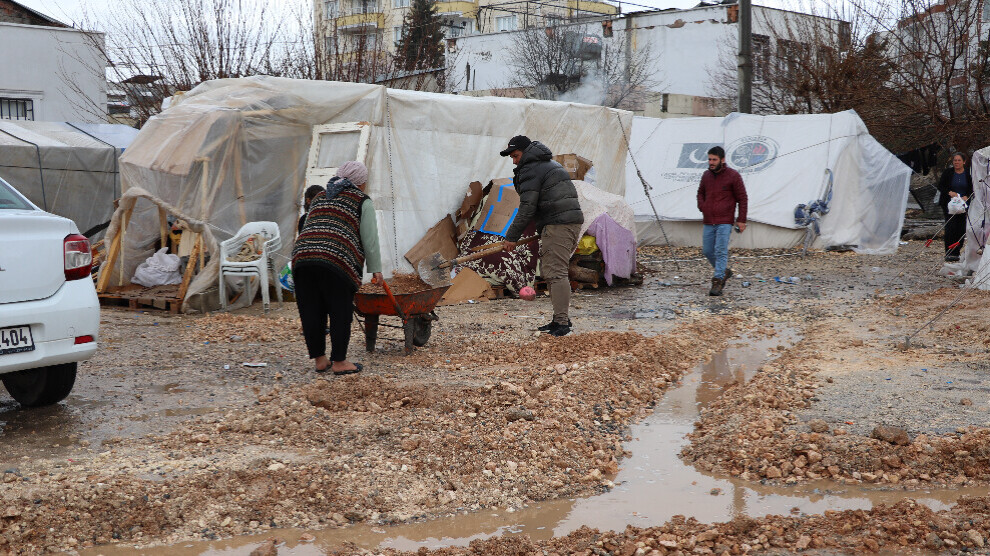 MEDİNE MAMEDOĞLU
 Semsûr (Adıyaman)- Thousands of buildings collapsed and thousands more were severely damaged in the February 6 earthquakes that struck Turkey, Kurdistan and Syria. In Semsûr, the earthquake survivors who have not been able to enter their homes and live outside since the day of the earthquakes still suffer from the lack of tents and containers although 37 days have passed. Heavy rain in southern Turkey has compounded the misery of survivors who have been living in tents. The citizens, whose tents have been flooded by the heavy rain, say, "It would be better if we died."
'Heavy rain has compounded misery of citizens'
The quake survivors in Semsûr make efforts to prevent rainwater from entering their tents by using shovels. In the interview with NuJINHA, quake survivors criticize the municipality and the government for not helping them.
'My children and I are sick'
Güllü Uğur is one of the quake survivors living in the tent city set up in the city center. She told us that they went to hospital every day because she and her children suffered from infectious diseases due to the lack of hygiene in the tent city. "Now, we suffer from heavy rain. Rainwater enters our tent. Something should be done for us because we are desperate. We need a safe and hygienic place where we can take shelter. This situation will not last for one or two months, it may last for years. We have nothing to solve this situation. We do not have a toilet or bathroom. All people living in the tent city are sick. My children and I are also sick. We go to the hospital every day. None of us knows who is dead and who is missing now. Many people have already died, it is enough."
'Where is the state?'
Hanım Cengiz showed us her tent flooded by heavy rain and said, "We live in water." Although they demanded an excavator from the municipality to dig a hole in order to save their tents, they have received no excavator until now. "It would be better if we died. We survived the earthquakes but we will die due to unhygienic conditions, the lack of toilets, bathrooms and potable water. Now, we suffer from heavy rain. Where is the state? No one comes here to help us. We have been left alone since the earthquakes."
'The mayor said 'We will give you a canvas' and left'
Elif Can was waiting outside of her tent when we saw her. "I cannot enter my tent because it has been flooded by heavy rain. When the mayor came here, I asked him to do something for us. He said they would give us a canvas and then left. A canvas cannot protect us from heavy rain. We do not know what to do."