Women develop their own projects
Women, who have developed their own projects to overcome financial difficulties, complain about the rising food prices. Being forcibly displaced due to the war and attacks of the paramilitary groups, they work hard to be ready for winter.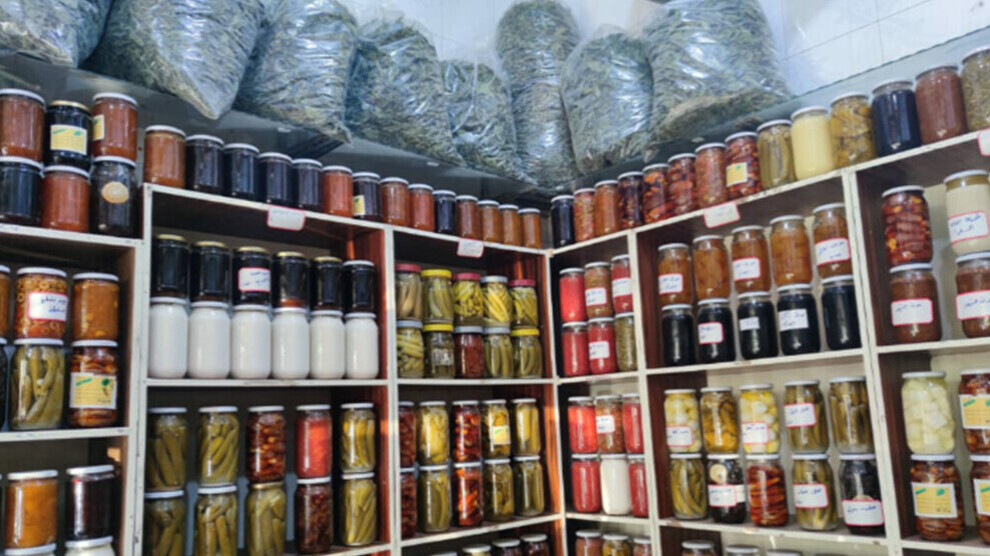 LENA AL-KATEEB
Idlib- Displaced women living in Idlib work very hard to make a living. The women, who are divorced or lost their husbands, have been developing their own projects to earn a living and be ready for winter.
She developed her own project
32-year-old Cemile Diab had to leave her hometown Khan Sheikhoun due to the use of chemical weapons during the Syrian civil war. After leaving her hometown, she and husband began to live in Idlib. However, her husband was wounded in an attack and he has been looking for a job since then. For this reason, she decided to start her own business. She prepares canning vegetables for winter in order to earn a living for her family of six. "Like most women, I was also unemployed. We experienced very bad days. Then, I developed a project to prepare canning vegetables for winter at home." After starting her own business, she employed many women to help her. These women make grape molasses, jam, pomegranate syrup and dry fruits, okra, eggplant and prepare canning vegetables to be consumed in winter. Cemile Diab stated that the biggest challenge faced by them is the rising vegetable prices. "Due to the rising vegetable prices, we have to raise the prices of our products. For this reason, people buy very few products," she told us.
She found a job opportunity
29-year-old Mariam Al-Maarati is one of the women who have been employed by Cemile Diad. She is also one of the women forcibly displaced from the Telmans town of Idlib. She lost her husband and has to make a living for her three children. "Before, I received financial support because I could not find a job. But this project offered us a job opportunity. Our living condition has improved since I started working here," she said.
She wants to find a full-time job
23-year-old Ravan El-Gannum is another woman being employed by Cemile Diab. She was displaced from the town of Hass in the southern countryside of Idlib and lives with her family in a house still under construction in Idlib. Her education expenses have been covered by the Teachers' Chamber. She wants to find a full-time job after graduating from the university. She works at the shop to help her family.
36-year-old Sana Al-Abbas is a teacher in Idlib. She emphasized that women should develop their own projects to stand on their own feet, support their family and to look after their children.