She makes income for her family from animal husbandry for 45 years
Heyat Cuma has been working in animal husbandry for 45 years in order to make income for her family and to provide natural products to her family. Despite her advancing age, she is happy for being engaged in animal husbandry.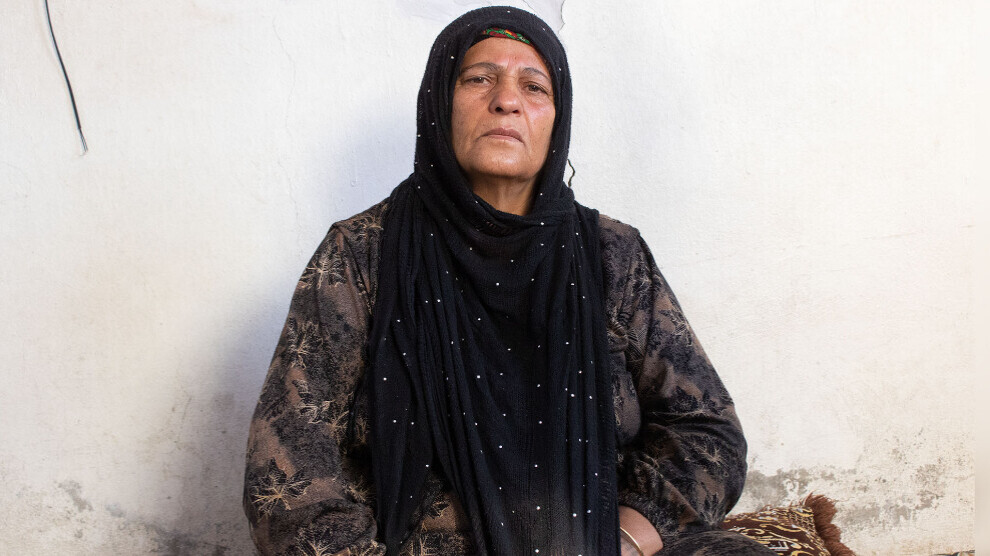 EBÎR MUHEMED
Qamishlo- Heyat Cuma is from the Til Merûf village of Hasakah's Tirbespiyê town but now she has lived in Qamishlo, northeastern Syria, with her family after being displaced from their village. Being engaged in animal husbandry for 45 years, she tries to make a living for her family by selling milk and cheese. She is proud of herself for raising her children.
Heyat Cuma is a woman who feels her longing for the past deep in her heart. They had to leave their home after ISIS attacked their village.
Heyat Cuma told NuJINHA their journey from their village to Qamishlo by saying, "I am from the Til Marûf village. We had to leave our village when ISIS attacked it. We have lived in Qamishlo since then. Our village was a beautiful village; however, ISIS razed it to the ground. I have been engaged in animal husbandry since my childhood. I always helped my mother. In the past, there were no tools and machines like today, everything was natural and simple. We used to make ayran in a churn and then make butter from ayran. After my children were born, I started being engaged in animal husbandry by setting up tents on the pasture area. Now, I am an old woman and get tired quickly, so my daughter helps me take care of animals."
'Natural products are healthier'
Speaking about the products from animals and their benefits, she said, "We have nearly 100 sheep, one cow and chickens. We make dairy products such as milk, cheese and yogurt. We also make a living by selling animals. Making yogurt is easy; I first heat the milk and then put it in jars and I set aside the milk to ferment in a warm place. Surely, natural products are healthier than the products made in factories. We have been suffering an economic crisis but these products are cheaper than the imported products."
'Women have made great efforts for animal husbandry'
Pointing to the efforts made by women for animal husbandry, Heyat Cuma said, "Today and throughout history, women have made great efforts for animal husbandry. Without the efforts of women, people would be deprived of the natural benefits of animals today. Women shoulder heavy burdens; they spend their days cleaning, cooking, taking care of children and doing and earning a living for their families. I have financially supported my family and I do not regret it. Despite my advancing age, I still love my animals. I will do this job as much as I can."