Daily challenges faced by women peddlers in Tehran
For women peddlers in Tehran, most of them come to Tehran from other cities, peddling is their only way to make a living. They spoke to NuJINHA about the challenges faced by them.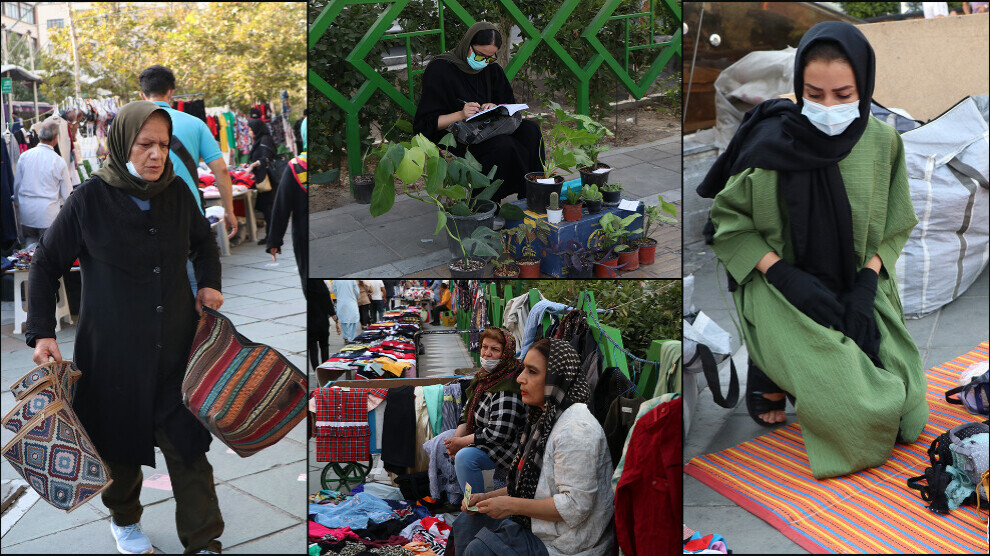 NEDA AHMEDPOUR
Tehran- If you live in a big city, you always see women peddlers. Peddlers always face economic and social problems. It can even be said that peddling is one of the most insecure jobs. Peddlers do not have a regular salary and they have to work informally for hours. The lack of job security makes women and men peddlers, regardless of gender, to think this job as unsuitable. In Tehran, peddlers  work in the subways, in the parks, in the streets, etc.
The high inflation, unemployment and price hikes cause women to work as peddlers in the country. Although the exact number of men and women peddlers in Tehran is unknown, according to the statistics of the field research, being a female peddler is no longer a taboo or a rare phenomenon compared to the past.  Female peddlers can be seen anywhere in Tehran now.  
Sajdeh works as a peddler to support her sons
On a very hot evening in July, I went to the center of the city near the Valiasr street of Tehran, where many peddlers work. In recent years, many people come to Tehran to work as peddlers. 55-year-old Sajdeh is one of them. She comes from Ahvaz to Tehran. She got married in Ahvaz and her husband is retired. Sajdeh works as a peddler in Tehran to support her sons. They are married, but they cannot afford the heavy expenses of their families. She is happy with her life and says that she works for her sons.
"I've been working as a peddler for years"
A few meters ahead, a woman was selling underwear on a street stall. She did not say her name. She began to talk to us saying, "I have worked as a peddler for years. My soul died many years ago but my body keeps working." Her husband died when she was young and she has two children. She told us that the customers' purchasing power has decreased, especially since the Covid-19 outbreak and that she spends whatever she earns to pay the house rent and to buy food for her family.
"I am a 25-year-old peddler in Tehran"
While walking in the street, a female peddler selling socks called me, "Are you a foreigner? Come and buy socks". I asked her to take a photo of her: "Take any photo you want. Many female students have taken my photos for their projects. My photos can be published everywhere because I am not doing anything wrong." I wanted to know more about her and asked her to introduce herself. "I am Aghdas, I'm from Saveh. I'm a 25-year-old peddler selling only socks in Tehran." Aghdas has been the breadwinner of her family since her husband had a stroke. She has a son with a learning disability. She told us that she has to pay taxes, house rent and thousands of other expenses. She complained about the sales reduction rate compared to previous years.
Maliha's children were dropped out of school due to poverty
After speaking to Aghdas, a woman working next to her told me, "Don't take my photo, I don't want anyone to see me on TV, my children won't approve of it."  I promised her not to take her photo and began to speak to her. Her name is Maliha, her husband had a stroke and she has four children, she works to pay the expenses of her family. The people buy goods from her out of pity but she doesn't have a problem with it.  Her children left school because they could not afford their school fees.
"Working in the street is painful for me, I receive all kinds of offers"
I saw Fatemeh, who is 40 years old. She has a beautiful face and a pleasant and warm smile, she has worked as a peddler for five years. Fatemeh's husband had an accident at work and he has to stay at home since he cannot work anymore. Fatemeh used to be a housewife and she has two children now. Working in the streets is very difficult for her. She told us that she has been subjected to sexual harassment by men. "I receive all kinds of offers from men. But I have to endure this for my husband and my children," she said.
The tea seller at the entrance of the subway also talks about sexual harassment...
43-year-old Zahra is from Tabriz. She has been living in Tehran for several years. She sells handicrafts along with her husband. "We don't know what else to do, we have two children and we have to work in the street days and nights in order to earn money for our children," she told us.
On my way back, I met a tea seller at the entrance of the subway and I started talking to her. At first, she didn't allow me to take her photo, but then she agreed. She introduced herself when I asked her name. "I am single and I sell tea to pay my own expenses," she said that they are three women and they can sell tea there ten days a month. I asked her if the people buy tea from her. "Yes, people buy tea and drink it in the park next to the city theater," she said and continued to speak, "In the park, many people ask me to sleep with them and many of them are lesbians."
As the number of female peddlers is increasing in Tehran, the problems faced by them also increase. These women suffer from many problems, including the lack of security, the lack of a suitable space to sell their goods, insults by the municipal official, sexual harassment, verbal abuse. Each female peddler has a different life story.