Three women who turn minefields into living spaces
They are three women who have witnessed the most painful truth of the war. They collect mines in minefields to save civilians and to heal their wounded hearts.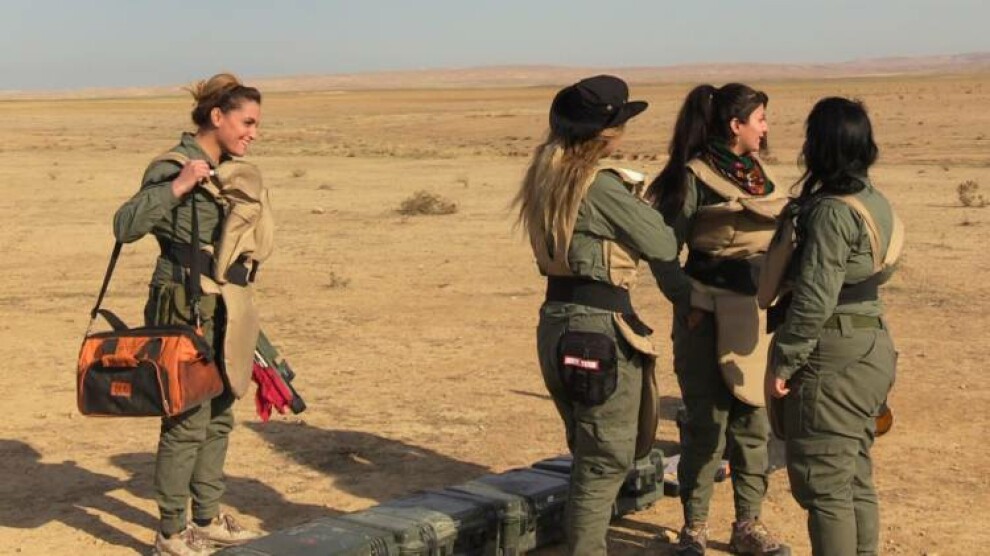 NECAH MEİŞ
Hesekê - Mûna Beşîr Xelîl, Yasmîn Silêman and Mîdiya Eslan Deqorî are three women from NE Syria/Rojava. Each of them has another story. These women have witnessed tragedies and the most painful truth of the civil war in Syria for nine years. Now, Mûna, Yasmin, and Mîdiya risk their lives by clearing landmines left by ISIS to save the lives of others.
ITF Enhancing Human Security is a humanitarian, non-profit organization founded by the Republic of Slovenia on 12 March 1998. The NGO specializes in land mine clearance and post-conflict reconstruction. It has worked in many regions, including the Middle East, to deliver aid to people affected by conflicts. The organization has worked in NE Syria to clear the land mines for two months and women also participate in the mine clearance process.
To prevent more children from dying…
Mûna Beşîr Xelîl is 22 years old and mother of two. She has worked in land mine clearance process in North-East Syria for two years along with teams. Mûna Xelîl states that she went through a lot of training programs before participating in the land mine clearance process and she says that she likes doing this work.
Mûna states that many people lost their lives due to land mines left by ISIS after the end of clashes; "Mines exploded many times and civilians lost their lives. I prefer working in this process to prevent more children and civilians from dying.  
"I devote myself to this work"
Like Mûna, 22 years old Yasmîn Silêman came from Qamişlo city in NE Syria to participate in the land mine clearance process. She lost her brother in a clash that broke out in 2015. Yasmîn Silêman has worked in the land mine clearance process for three years and for two months, she has worked with the ITF.
Even if Yasmîn worries about taking part in such a project because of its risks, she is happy to be among those who roll up their sleeves to have a safe future. Working without facing any discrimination and gendered approaches is important for Yasmîn Silêman. "The best part of this work is that we carry out this work together without any facing any discrimination." Yasmîn says, "I devote myself to this work. Imagine that we will clear this land from mines and then hand it over to its owner. It will turn into a cultivable land; people will make a living by cultivating it. Maybe, a school will be built on it. The children will go there to have education and they will be happy. A child stepped on a land mine before and he lost both of his legs. If we clear all land mines, the children will live in safety. This is a big goal for me."
"We create safe living spaces"
Medya Eslan Deqorî is one of the women, who never leave their country in order not to be away from their memories, lands they were born in. Medya lost her husband in the attacks carried out by the Turkish state and Free Syrian Army (TFSA) on October 9, 2019. She moved from Tiltemir town of Hasekê to the city center along with her two children. Medya Eslan Deqorî has joined the land mine clearance process for two years. She explains how her work is important in the following sentences, "True, our lives are in danger. But now we got used to it. We do this work to serve people. We create safe living spaces by clearing mines left by ISIS."