"As the wind blows, I smell that reminds me of my village"
"As the wind blows, I smell that reminds me of my village," displaced woman Xilûd Elî said while talking about her longing for her homeland and called for the end of Turkish attacks.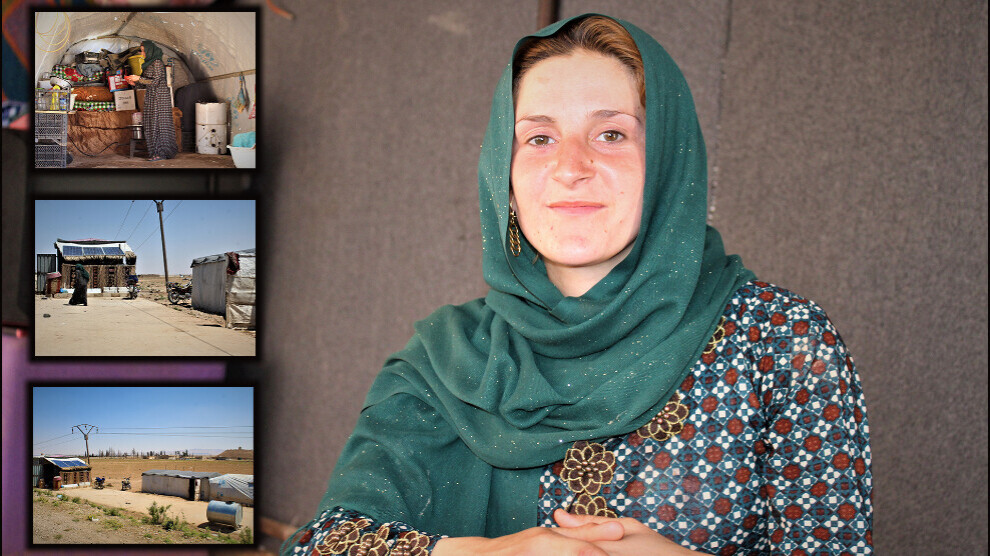 SORGUL ŞÊXO
Hasakah- Many war crimes have been committed in northeastern Syria by the Turkish state. Hundreds of thousands of civilians living in NE Syria have been forcibly displaced due to the ongoing Turkish attacks. The displaced people of Serêkaniyê, Afrin and Girê Spî have been living in tents despite the hot weather.
They feel a longing to return to their villages and see them. However, they cannot return to their villages because they do not know what they will face when they return.
Xilûd Elî, a woman forcibly displaced from Qasimiyê village in the north of Tell Tamer town, lives with her husband and two children in a small tent set up on the road to Til Roman village in the south of Tell Tamer. Their 6-meter tent is their bathroom, bedroom, and a space to rest and host their guests. Their tent has become their home and there is a vegetable shop right next to the tent.
She sees her village from afar
Speaking about before and after the occupation of their village, Xilûd Elî said, "When the attacks started in the region in 2019, we were at home. We saw how the people were leaving their homes and the village. We decided not to leave the village, but when the conditions got very bad, we left the village. We still want to return to our village. I go to Um El-Kêf village to see my village from afar. We have been living in this tent for about three years."
They could stay one day in the house they had built
Underlining that they know that they will face inhuman practices if they return to their village, she said, "I cannot go to Um El-Kêf village as often as I used to because the attacks have been intensified there. When I see my house from afar, I remember all my memories in the village. We worked hard to build our house for a year. After completing the construction of our house, we could stay in it only one day. On the second day, we had to leave it due to the attacks."
"We will return to our house when the war ends"
She told us that they opened a shop to earn a living. "Being displaced people is very difficult but we have to live in order to return to our village one day. We will return to our house when the war ends. I work in the shop with my husband. We live in Til Roman village now to return to our village one day."
"As the wind blows, I smell that remind my village"
"As the wind blows, I smell that reminds me of my village," she said while talking about her longing for her village. "Our village was occupied by the Turkish state. We want to return to our village but we cannot due to the presence of the Turkish state. They have laid landmines in the village. The Turkish attacks should end so that we can return."