Women's Cartooning Days in Morocco
The cartoons exhibited as part of the Women's Cartooning Days held in Casablanca draw attention to the gender stereotypes in Moroccan society and call for achieving gender equality.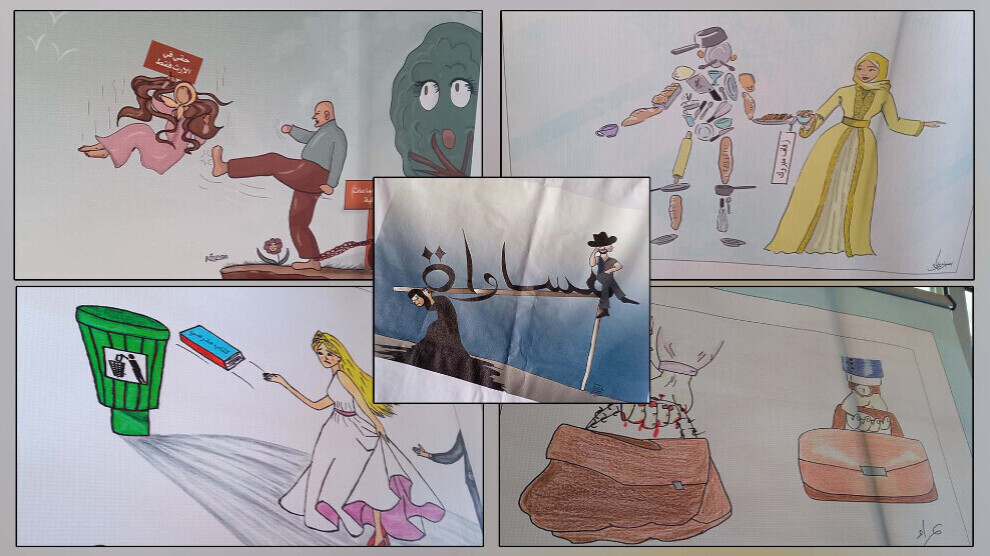 HANAN HARITE
Morocco- The Women's Cartooning Days, which kicked off in Casablanca on October 15 with the motto, "Your Turn in Housekeeping" by the Hiber Association for Teaching and Empowerment with the cooperation of the Heinrich Böll Foundation in Rabat and the American Art Center in Casablanca, will continue until November 15. 60 cartoons of 15 young artists have been displayed at the exhibition held as part of the Women's Cartooning Days.
One of the artists displaying their artworks at the exhibition, Samra Dakkak said, "The exhibition sheds light on the suffering of Moroccan women and their demand for gender equality. Through this art, we convey our messages smoothly to young people. In our artworks, we say we demand gender equality."
She realized her dream
Another artist displaying her artworks at the exhibition, Somaya Al-Baidawi told us that she looked for an opportunity to engage in a training course. After she took a six-month training course, she began to teach young people how to draw cartoons. "I realized my dream. The art of cartooning is the art of clarity, simplification, caricature, and pantomime. Cartoons can be humorous, serious, satirical, bizarre, featured in print, film, online or any other visual media. Since the exhibition was launched, we have been trying to reach large groups of young people and students, with the aim of giving them an opportunity to express what they feel and what they think about the issue of equality, and how this can be expressed through cartoons. We allow them to use cartoons to send their messages to society.
Speaking about gender stereotypes, she said, "Still people believe women belong in the kitchen and home. So, we organized the Women's Cartooning Days with the motto, 'Your Turn in Housekeeping' to raise awareness of the public."
"Many things have changed but this change is insufficient"
Nadia Obeidi, director of the Career Counseling Center in Casablanca, said that their center organizes awareness-raising workshops for young people about women's rights. "The situation of women has improved compared to what our mothers and grandfathers lived through. There are many things that have changed, but this change is insufficient to achieve gender equality. When women participate in the labor force, housework must be shared by men and women."