Çîrokek ji qêrîna fermana 74'an: Min ji porê te yê bi hine hêlîn çêkir - 4
Dema ku Bêrîtan ji wan riyan derbas dibe, dinêre, dibîne ku hêlînên çûkan ên li serê daran balkêş in. Çûkan hêlînên xwe ji porê dayikên ku roja fermanê li Sûka Kevn hatin qetilkirin, tecawizkirin û pitikên wan hatin perçekirin çêkiribûn.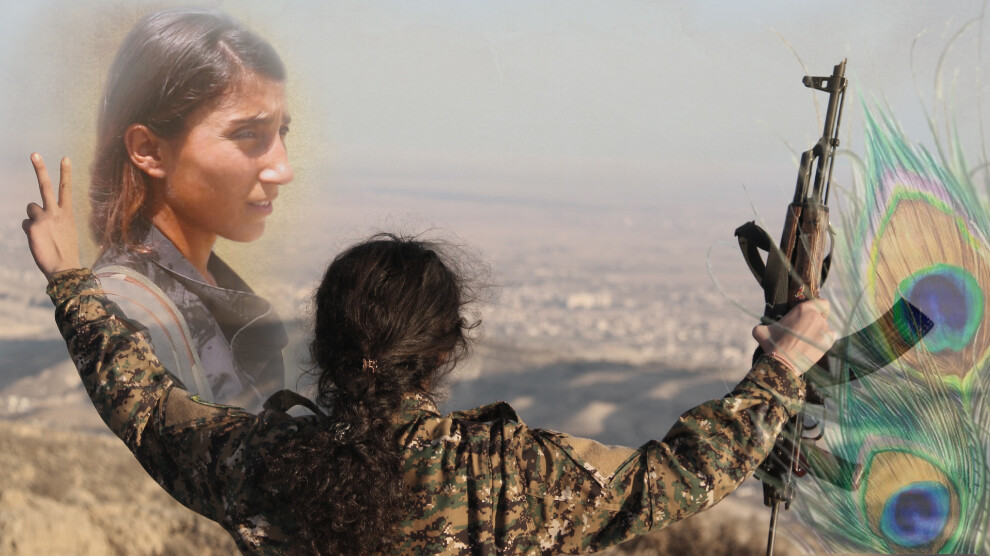 Porê xwe ber bi azadiyê ve dirêj kir
ROJBÎN DENÎZ
Şengal - Belkî Bêrîtan destpêke li hemberê tiştên jiyayî bêdeng ma. Nizanibû çawa bireve, dikaribû bi ser bikeve yan ne. Bedena wê ya biçûk ku bi birçîbûn û tîbûnê re di ezmûnek giran de bû, wê neçar dikir ku bi hêz bimîne. Dema malbata xwe dît, ji ber tiştên li pey xwe hişt, nikaribû kêfa rizgariyê bijî.
"Dema ber bi jêrê lofayan ve diçûm, di hundirê min de tirsek hebû lê piştre min li jorê lofayan mirovan dît û vê yekê min rehet kir. Min ji vê werêkî girt. Hestek wisa bû ku vegotina wê pir zehmet e. Giraniya tiştên min li pey xwe hiştin, kêfa pêşwazîkirina mirovên ku min li pêşiya xwe dît, her duyan bi hev re dijiyam. Ji ber min nikaribû xwarin û ava ku min gel xwe girtibû, hilbigrim, min li erdê hişt û tenê çeka bavê min bi min re ma. Dema ber bi çiyayan re diçûm hilgirtina wê jî zehmet dihat. Gava min gel dît dilê min rehet bû, tirsa min derbas bûbû, tenê hêrsa min mabû. Ez bi kesên li paş mabûn re, bi bêhnvedanê heta Çilmêra çûm. Dema ez gihîştim Cilmêra, min dest bi lêgerîna malbata xwe kir. Baş bû dîtina wan zehmet nebû. Dema min malbata xwe dît, ez beziyam û min yek bi yek wan hembêz kir. Ez rizgar bibûm lê tiştên ku li pey min man, nekaribûm wan rizgar bikim. Wisa dilê min tije bûbû ku tiştên hatin jiyîn min ji malbata xwe re vegot. Wan jî pir min meraq kiribûn û hem jî fikirîne ku ez ê êdî venegerim. Dema min li pêşberê xwe dîtin, dayika min tilîlî kişand."
Bi rojan li Şengalê temaşe kirin
Li Çilmêra 20 malbat bi Bêrîtan û malbata wê re bûn.
"Zarok û sê pitikên biçûk hebûn. Di pêvajoya yekem de xwarina me hebû lê paşê ji ber hemû xwarinên me xilas bûn, me pir zehmetî kişand. Li Çilmêra şev pir sar bûn. Ji bo em bi şev li wir bimînin û xwe ji sermayê biparêzin, me erd kola, li dora wê ji keviran dîwarekî lê kir û demekê bandora sermayê rawestand. Em nava rojê diçûn aliyê çiyayê ku navenda Şengalê dibîne, li wir li ser keviran rûdiniştin û bi saetan me li Şengalê temaşe dikir. Carna dengê çekan, carna jî dengê qîrînê dîhat. Li Çilmêra hejmarek zêde mirov hebûn. Heman demê li gel me pez jî hebûn, me bi şîrê pezan kêm be jî tîbûna xwe dabîn dikir û bi goştê wan jî me xwe ji birçînbûnê diparast. Lê her dem xwarina goşt ji bo her kesê pir giran dihat. Pirsgirêka xwê û şekir hemû kesê ji hêzê xistibû. Li gel me jineke ducanî hebû. Li Çilmêra welidî û cêwî anî. Tiştekî ku em li pitikan bikin tunebû. Me ew bi poşetên bi derdorê, pêçan. Parastin û germkirina wan pir zehmet bû. Piştre çi hat serê wan nizanim. Em li çiyayan bi ewle bûn lê ditirsiyan ku çete werin jorê çiyayan. Carna digotin 'çete tên', me cihê xwe diterikand û em direviyan. Em hemû li zeviyê belav dibûn, li cihekî ku xwe veşêrin digeriyan. Em bi bêdengî û tirs li cihê xwe yê veşartî demek disekinîn, me li derdora xwe temaşe dikir û dema me fêm dikir ku çete nayên, em vedigeriyan cihê xwe."
Ji hewayê alîkariya xwarinê girtin
Bêrîtan dema alîkarî hatiye tiştên jiyaye vedibêje, bi gotinên xwe wan kêliyan di hişê me de zindî dike.
"Dîsa rojekê bi heman awayî gotin 'dê çete werin.' Em ji cihê xwe rabûn ber bi erazî ve çûn, li bin daran di nava keviran de me xwe veşart. Demek em li wir man. Ji dûr ve deng dihat, ne ji erdê ji ezman deng dihat û piştî demekê helîkopterên alîkariyê yên dihatin, xuya bûn. Ji me re ji hewayê av û xwarin diavêtin. Em hemû ji cihên xwe yên veşartî derketin û ber bi cihên helîkopteran ve me dest bi bazdanê kir. Ji bo ji me re xwarin û av anîbûn em kêfxweş bûn, ji aliyekî ve jî em bi hêvî dibeziyan ku belkî me ji wir bibin. Bêyî werin xwarê, av û xwarin diavêtin xwarê. Piraniya ava ku diavêtin, li erdê diteqiyan. Di wê rewşê de, em bi wê jî razî bûn. Paketên ku diavêtin mezin û giran bûn, dema diketin erdê gelek deng derdixistin. Paketên ku diavêtin li gorî hejmara mirovan bi navber dihatin avêtin. Dema pakêt dihatin avêtin, ji bo mirov di bîne de nemînin, me li riya hatina pakêtan dişopand û li gorî wê xwe diparast. Paketeke ku wê kêliyê hat avêtin li jinek ket. Li wir di heman kêliyê de jiyana xwe ji dest da. Nizanim ew hest çawa tê vegotin, ji aliyekî ve ji me re av hatibû, ji aliyê din ve jî jineke ku xwe ji çeteyan rizgar kiribû û bi rojan zehmetiyek mezin derbas kiribû, li ber çavên me jiyana xwe ji dest da.
Kêfxweşiya Bêrîtanê û kesên derdorê bi mirina wê veguherî êşê
"Em bi av û xwarinên ku ji me hatin gelek kêfxweş bûn lê mirina wê jina li wir û awayê mirina wê kêfxweşiya di hundirê me de nîvî hişt. Hevjîn û zarokên jina ku mir, wê birin binê kevirek û her kesê alîkariya wan kir. Binê kevir kolandin û wê li wir veşartin. Bi rîtuela herî bêdeng a Êzidatiyê re, bedena wê ya bêruh spartin axê. Cihê wê axa wê bû. Ger rojekê Şengal ji çeteyan were paqijkirin, wê jin ji binê wê kevirî bê derxistin û pêşî li gundê xwe, mala ku lê dima û piştre jî li tenişta Qubeya ku girêdayê wê bû bihata definkirin. Di Êzidayetiyê de kevneşopî wisa bû."
Li benda rizgariye sekînin
Berîvanê diyar dike ku her roja derbas dibû giraniya birçîbûn û tîbûnê di bedena xwe de zêdetir hîs dikirin, diyar dike ku dema helîkopterên alîkariyê hatine ew di rewşeke wisa de bûne ku nikaribûne ji cihê xwe rabin.
"Germa hewayê tîbûna me wisa zêde kiribû ku belkî bi dehan kes ji tîbûnê mirin. Helîkopterên hatin vê carê jî av û xwarin ji me re anîbûn. Daxwaza me ya yekane ew bû ku ger tiştek bînin bila av be. Wê rojê piştî paketan avêtin, hinekî daketin xwarê û hejmareke pir hindik nexweş, kal, zarok û jinên ducanî birin. Ên ku çûn kêm bûn lê ev ji me re hêviyek bû, me got, 'Wiha her carê bi vî rengî parçeyekî me rizgar bikin.' Lê careke din nebû. Dubare nehatin û kesê nebirin. Careke din pakêtên alîkariyê jî nehatin."
Ji tîbûn û sermayê mirin
 "Kêm mabû ku em hefteyekê li paş xwe bihelîn. Zarok û mirovên nexweş pir zehmetî dikişandin. Mirina zarok û jinan ji tîbûn, birçîbûn û sermayê mirina herî giran bû. Dema bavek bi sê keçên xwe re ber bi çiya ve diçû, keçikek wî di rê de mir, keça xwe girt ser milên xwe, li ber kevirekî hişt û axê avêt ser wê, xwest baş xwedî li keça xwe ya ku wê emanetê kevir û axê kiribû, derbikeve û piştî kevir û axê maç kir, riya xwe bi keçên xwe yên mayî re domand. Bi şev li çiyayên me sermaya zozanan heye bi şevê te ber bi xwe ve dikşîne, bi roj jî germa wan te dişewitîne. Pêwîst e zimanê çiyayan baş bê zanîn. Ger hûn çiyayan nas nekin, li wan çiyayên ku hûn ji bo parastinê xwe dispêrin hûn ê berdêlên giran bidin. Em neçar bûn bi birçîbûn, tîbûn, serma û germê re têbikoşin. Mezinên me berxwedêr bûn, hewaya çiya dizanibûn, ew mirovên çiyayî bûn û çiyayan jî wan nas dikir. Ew dostên berê bûn, hev hembêz dikirin û heta radeyekê bi zehmetiyan re dikaribûn têkoşiyana. Çiyayan ew parastibûn û hejmara miriyên kal û pîran pir kêm bû. Me xwe spart zanîna wan. Yên xwedî tecrube ji me re çalên ku em tê de ji serî heta binî xwe direj bikin dikolan. Êvaran em du-sê kes diçûn di wan çalan de  radizan. Axê me germ dikir. Em dîsa diqerisîn lê em ne ji mirinê, ji jiyana diqerisîn. Ji nava zarokên ku nikaribûn xwe li ber sermayê bigrin, yên serê sibê ji xwe ranedibûn hebûn. Her sibe ji binê kevirekî dengê nalînê bilind dibû, pitik an jî zarokek ku bi şev xwe li ber sermayê nedigirt, jiyana xwe ji dest dida. Li axa xwe sirgûn, li axa xwe mirin, di bin fermana herî xirab de jiyan zor bû."
Axê kesên ku jiyana xwe ji dest dan jî parast
Dibêjin; "Xwezayê mora xwe li pîroziya Êzidayetiyê xistiye." Mar, pezkovî, dûpişk, dîk, teyrê tawus dara gûzê, gulebûk û hemû xweza di pîroziya Êzidatiyê de dijîn. Yê diçe û dibîne ji hêla xwezayê ve tê morkirin. Her Êzidiyek ku di fermanê de li çiyayan jiyana xwe ji dest daye, emanetê axê hatiye kirin, wisa nehatiye terikandin. 23 cihên pîroz li Şengalê hene, di nava Êzidiyan de hatine parvekirin. Êzidî dibêjin, 'Xwedayê me kîjan qube be divê em li kêleka wê werin veşartin.' Ger mirov li cihê aîdê wê ye nemire, heta ku ew mirov li cihê xwe were veşartin, bedana wê/wî dispêrin axê. Dema canê xwe emanetê axê dijin, bawer dikin ku ax bedena ku hatiye spartin, heta xwediyê wê/wî were û wê bigre diparêzin. Ew çiya, kevir û axê, di pêvajoya fermanê de ne tenê yên ku dijiyan, yên jiyana xwe ji dest dane jî parastibûn. Bêrîtan vegotina rojên xwe yên zehmet ên li çiya, berdewam dike.
"Di nava 7 rojên ku em li çiya man, me zehmetî kişand lê bi ewle bûn jî. Dawiya heft rojan her kes li hev civiya û me biryar da ku em ji çiyayan dakevin aliyê Şemal (başûr). Em ê biçûna kêleka Hecalî Qubsî. Ev der nêzî Qubeya Şerefedînê bû, li quntara çiyê cih digirt. Me digot qey ferman tenê li bakurê Şengalê ye, yanî li aliyê Qibletê ye. Em kom bi kom dadiketin Qubeya Hecalî. Di her komê de ji bîstan zêdetir malbatan cih digirt. Ji bo me daketina çiya ne zehmet bû. Di demeke kin de em hatin jorê Qubeya Hecalî. Dema me li jêr temaşe dikir, me didît ku gelek kes hene. Yên ku beriya me hatibûn, rasterast ji gundê xwe hatibûn. Eşkere ye ku çete heta Hecaliyê nehatine. Em daketin jêr û rewşa wan pirsî. DAIŞ ketibû hemû gundên aliyê Şemalê û zêdetirî nîvê gundê Hardanê revandibûn. Yên ku dikaribûn xwe xilas bikin, xwe spartibûn çiyayan. Yên li Hecaliyê bi cih bibûn gotin; "Em ji roja fermanê ve li vir in. Em pirgirêka birçîbûn û tîbûnê dijîn. Lê agahî hat, dibêjin gerîla hatine. Ji bo rizgarkirina me hatine. Her kesê qala gerîlayan dikir. Hem jî hinekan wan dîtibûn, wisa bi heybet behs wan dikirin ku hêviya me ji nû vê zindî dibû. Digotin gerîlayan ji bo gel rizgar bikin heta Sinûne û Dîgorê korîdorek vekirine. Me ji PKK'ê re digot PEK. Fikra 'Gerîlayên PEK'ê ji bo me şer dikin' bandor li me hemûyan kiribû. Ji rizgarkirinê zêdetir, ji bo me şerkirin pir girîng bû. Di tevahiya fermanê de tu kesê ji bo me tiştekî nekiribû, tenê gerîlayên PKK'ê hatin û vê yekê gelek bandor li ser me kir. Di roja duyemîn a mayîna me ya li Hecaliyê de gerîlayan av û xwarin ji me re anîn. Ji me re gotin, 'zikê xwe têr bikin û av pêwîst vexwin, em ê piştre derkevin rê.' Em nizanibûn bi ku ve biçin û kesê jî pirs nedikir nedigot em ê bi ku ve biçin, me hemûyan bi awayekî ji gerîlayên ku ji bo me şer bikin hatibûn, bawer dikir. Her kesê av vexwar û zikê xwe têr kir. Piştre me bi malbatên me re kom bi kom derxistin rê. Ji korîdora ewlekariyê birin sînorê Rojava. Ji sînorê nêz gelek maşîneyên vala hatin pêşiya me, me li wan suwar kirin û birin Rojava.
Piştî du salan vegeriya Şengalê
Bêrîtan dibêje ku hin kesan gotin; "Em ji çiyayên xwe dernakevin, ger gerîla jî li vir bimînin, em ê li vir bimînin", diyar kir ku beşa din jî  bi hêviya ku li Rojava bimîne û ger DAIŞ ji Şewngalê were derxistin, dubare vegerin cihên xwe, mane.
"Beşek ji Êzidiyan jî dixwestin biçin Başûrê Kurdistanê, bi taybetî jî xwestin biçin aliyê Şêxan. Xwestin nêzî cihê me yê pîroz Laleşê bimînin. Ez jî bi malbata xwe re derbasê Başûrê Kurdistanê bûm. Ji ber meşê binê lingên hemû kesan diteqiyabû. Em bi rojan li erdê man. Me demek hewl da birînên xwe bipêçin. Her ku birînên me baş dibûn, êşa ku şopek di dilê me de hiştibû, dest xwînî dibû. Gelê Başûrê Kurdistanê alîkariya me kir. Em bi malbatî çûn Zaxoyê û li wir li malek bi cih bûn. Malbatên din ên ku bi me re hatin jî wek me di xaniyan de hatin bicihkirin. Piştî em pênc mehan di wan xaniyan de man, xwediyên malan me ji malên xwe derxistin. Me li kampan bi cih kirin. Em du salan li kampan man. Di van du salan de pêngava rizgarkirina Şengalê dest pê kir, li gelek cihan bi serkeftinê encam girtibûn û li hin gundan hê jî berdewam dikir. Em jî weke malbatî piştî Şengal hat rizgarkirin êdî nikaribûn li kampan bimînin û piştî du salan em vegeriyan Şengalê, em bê warê xwe stûxwar bûbûn."
Mala xwe ji nû ve ava kirin
Bêrîtan dibêje ku di kampan de tişta herî zêde kêmasiya wê dikişandin hesta aîdiyetê bû, tînê ziman ku ji bo wan tişta herî girîng ew e ku li ser axa xwe bijîn.
"Dema ku em li kampan diman ev mijar bû. Me dizanibû ku Şengal ne Şengala berê ye. Fermanek mezin bû, qetlîamek mezin çêbû, her der wêran bû, bîranîn û êşan çiya, deşt û gundên me dagirtibûn. Em hatin ji xwêliyê ji nû ve welidîn ji bo dijminên xwe bişewitînin. Ji ber vê me wêrankirina gundên xwe xem nekir. Me mala xwe anî Şengalê. Mala me xera bibû. Kolanên ku zarokatiya min li wan derbas bibûn, wek romaneke ku rûpel bi rûpel ferman nivîsandiye disekinîn. Her ku min xwend, tiştên hatin jiyîn min bêtir hîs dikir. Me wek malbat destên xwe da hev û mala xwe ji nû ve anî rewşek ku em bikarin lê bijîn. Wekî berê xweş nebûbû lê dîsa li heman cihê bû. Me got 'Dema birînên me baş bibin dê mala me jî xweşik bibe.' Her ku min tiştên li Şengalê qewimîn dît û guhdarî kir, hêrsa min zêdetir dibû. Helbet sekna gerîlayan, min ji kûr ve bi bandor dikir. Berxwedan û şervanî Êzdayetî bi xwe bû."
Biryar da bibe şervan
Bêrîtan piştî van hemû tiştên hatin jiyîn, bi gotina; "Pêdivî pir zêde bi fikrê nîn e" ket riyêk û biryar da ku bibe şervan.
"Min di sala 2018'an de biryar da ku tevlî YJŞ'ê bibim. Dema rakirina tola tiştên ku li me hatine kirin, hatibû. Dem dema rakirina tolhildana bi hezaran jinên Êzidî ku DAIŞ'ê bi xirikandinê ew biribûn bû. Ez weke jineke Êdî, piştî tiştên ku me di fermanê de jiya, nikaribûm weke jineke normal li malê bijîm, di malê de bêm hepskirin û fermaneke din tehemul bikim. Min ji bo kesên çûyî soza 'ez ê bibim şervana van çiyayan û Êzdatiyê' da. Niha îro wek jineke Êzidî çeka xwe bi serbilindî hildigrim. Dema ez ji van kolanan derbas dibim, bi serbilindî dimeşim. Dema ez li her milekî axa xwe ya bi xwîn û bedel hatiye avdan dinêrim, soza xwe ya ji bo hemû şehîdên fermanê nû dikim. Ez êdî ji dil şervana vê axê me. Heta tiştên min di fermanê de jiyan, li bîra min bimînin divê ez bibim şervana vê axê. Dema zarok bûm, min dixwest bibim leşker. Ez zû mezin bûm, min fermanek dît, gerîlayan nas kir û her ku vê jiyana wekî xewnereşkê min mezin dikir ez hinek din zêdetir nêzî xeyalên xwe dibûm û bûm gerîllaya çiyayan. keziyên gerîlayên jin, rûyê wan ê xweşik û şerê wan ê bi lehengî li dijî DAIŞ'ê pir bandor li ser min çêkiribû. Ez wisa bi bandor bûbûm ku min her dem xeyala wan dikir. Her ku nêzî gerîlayên jin dibûm, digihîştim nepeniya bedewiya wan. Nepeniya wan bi felsefeya Rêber APO re jiyan dîtin bû. Vê jî bi min re girêdana min a bi Êzdatiyê, jinan û axê re xurtir dikir û min ber bi hesta berpirsiyariyê ve dibir."
 "Dema gerîlayên PKK'ê ji bo rizgarkirina me hatin, ne tenê fizîkî me rizgar kirin, ji aliyê fikrî ve jî em rizgar bûn. Em ji wan fêr bûn ku divê Êzidî û Êzdayetî bi îrade bin û parastina xwe bizanibin. Me bi saya PKK'ê fêm kir ku divê em êdî beriya fermanê û serdema fermanê nejîn. Me jî bi Êzdatiyê dost û dijminên xwe nas kir. Pêşmergeyên PDK'ê me hiştin, bi temaşekirina cenazeyên me yên ku di nava xwînê de diqîriyan, reviyan. Ma mirov dikare tiştên jiyayî ji bîr bike? Min ji bîr nekir. Bi taybetî tu jineke Êzidî ji bîr nake, Êzdatî û civaka Êzidî bê bîranîn nayê hiştin. Ez dixwazim hemû cîhan vê bizanibe. Ez weke jineke Êzidî êdî di jiyanê de xwedî armanc û hedef im. Divê êdî van axan fermanan nejîn."
Porê xwe ji azadiyê re veşart
Bêrîtanê di bêhnek hemû tiştên jiyaye vegot. Bêrîtan dema di wan riyan de derbas dibe, dibîne ku hêlînên çûkan ên li serên daran balkêş in. Çûkan hêlînên xwe ji porê jinan çêkiribûn. Ev por, ê dayikên ku roja fermanê li Sûka Kevn hatin qetilkirin, tecawizkirin û pitikên wan hatin perçe perçekirin û bi wan dan xwarin bû. Porê keçên ku hê zarok bûn, ketibûn binê axê bû. Bêrîtanê niha porê xwe ber bi azadiyê ve dirêj kiriye. Ez êdî bawer dikim ku xweza şahidiya êşên tên jiyîn dike. Bêrîtan a ku di nava civaka Êzidî de gihîşt, di temenekî zarok de ji zarokekî re dayiktî kir û di temenekî biçûk de şahidê tiştên ku piraniya mirovan di jiyana xwe de nikarin şahidiya wan bikin, kiriye. Bûye rêhevala çûkên ku bi biskên bi hine hêlînan ji xwe re çêkirine. Çawa ku wan ji por hêlîn çêkirine, çêlikên xwe di wan hêlînan de anîne cîhanê û wan parastine, Bêrîtanê jî hest, raman û sekna xwe bi parastina jinên ku weke çûkan bi eşqa azadiyê re bûn re kiriye yek. Porê xwe ji bo azadiyê dirêj kiriye bi baskên çûkan re ji azadiya ku tu dest û çav nagihîjinê re veşartiye.
Bi dawî bû