Esma, Safiye û Meryem... sê zarokên piçûk ên ku bi xeyalên mezin dixebitin
Asma, Safia û Meryem ku zarokên dixebitin lê xwedî xeyalên mezin in, ji me re xeyalên xwe vegotin.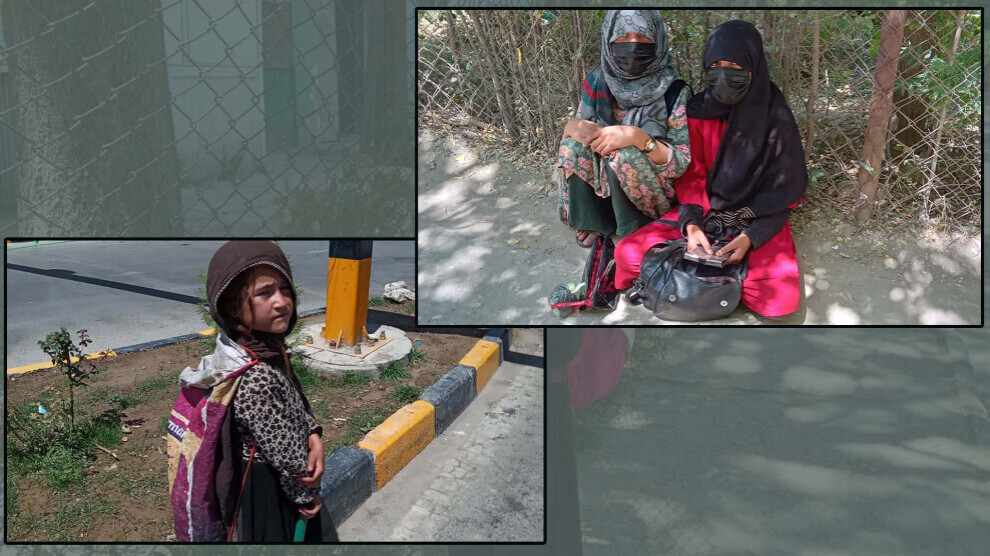 Beharan Lahib
Kabîl - Roja Cîhanî ya Zarokan ji bo welatên ku rêjeya xizanî û bêkariyê wan bilind e tu wate îfade nake. Li van welatan dayik û bav nizanin ku rojek wiha heye, ji ber ku yekana fikara wan dayik û bavan ew e ku ji bo zarokên xwe bidin jiyîn hêza lîmûzînê pêyda bikin.
Afganistan yek ji wan welatan e ku di nav dehsalên şer û tundûtûjiyê de şert û mercên aborî yên herî xirab lê heye û serdestiya desthilatdarên gendelî û mafya, zarok jî di nav de mirovan ji piştgiriya herî biçûk a dewletê û ji refaha civakî bêpar hişt. Rêberên welatan, bi taybetî di bist salên dawî de, îmzeya xwe li hundir û dervayî welat ji veberhênanên mezin re avêtin. Li şûna ku alîkariya navneteweyî ya bi mîlyaran dolaran ji bo rakirina xizanî û nexweşîyên din ên civakî bikar bînin, ji qirika wan çû xware.
Di 12 Çile ya 2001'an de Save the Children International ragihand ku 13,1 mîlyon zarokên Afganî hewceyê berhemên xwarinê ne. Di sala borî de 9,7 mîlyon zarok hewceyê berhemên xwarinên bûn.
Di sala 1399'an de Wezareta Kar û Karûbarên Civakî ya Afganistanê, di rapora xwe de hejmara zarokên karker wek 3.7 milyon ragihandi bû. Ji van zarokan nêzîkî 2,1 mîlyon di navbera temenê 5 û 7 salî de ne.
Her çend Wezareta Xebat û Karûbarên Civakî di heman raporê de îdia kir ku îsal di hejmara zarokên karker de kêm bûn hatiye jiyîn jî, li gorî Komîsyona Serbixwe ya Mafên Mirovan a Afganîstanê, hejmara zarokên karker ji sedî 10 zêde bûye.
Komîsyona Serbixwe ya Mafên Mirovan a Afganîstanê (AIHRC) di rapora xwe ya salane ya 26'ê Adarê de ragihandibû ku ji sedî 21'ê zarokan hatine îstiham kirin. Di raporê de karkariya zarokan bi vî awayî tê dabeşkirin: Berhevkirina çop sedî 9,9 e, di karê giran de ji sedî 9,9, firoşgeriya seyar ji sedî 7.8 û di saziyên de ewlehiyê (ne leşker, wek karker) ji sedî 0,8 ye.
Rêxistina Zarokan Biparêzin (Save the Children) raporek din derbarê windahiya zarokan ya di dema şer de weşand. Li gorî raporê, îsal nêzî 3 hezar û 62 zarok mirin û birîndar bûne. Piraniya zarokên mirin zarok in ku di 192 êrîşên li dijî dibistanan û 62 jî li dijî nexweşxaneyan de hatine kuştin an jî birîndar bûne bûn.
Ji nû ve holê derketina Talîbanê re, ji aliyekî ve piraniya kesên nanên xwe qezenç dikirin karê xwe winda kirin, ji aliyê din ve jî hişkahiya dijwar Afganiyan hê jî xizantir kir. Ji ber vê yekê ger were pêşbînîkirin dê îsal ji ber birçîbûn, xwarin û kar hejmara mirina zarokan zêdetir bibe.
"Em her roj tenê nanê hişk dikirin, lê ez birçî me"
Ajansa ji bo rewşa wan û daxwazên wan fêrbibe bi sê zarokan re hevpeyvîn kir. Safiye Ghulam a pênc salî ku li Kabulê dijî ji bo debara xwe bi firotina şûşeyan bike sergo kom dike. Safiye Ghulam çîroka xwe wiha vedibêje:
"Bavê min beriya salek di şer de şehîd ket. Dayika min dubarê zewicî. Ez bi dapîr û bapîrê xwe re dijîm. Ez ji bajêran şûşeyên vala kom dikim. Bapîrê min ji bo ku nanê hişk bikire difiroşe. Em her roj tenê nanê hişk dikirin, lê ez birçî me."
Safiye di dawiya axaftina xwe de wiha dibêje: "Ez dixwazim bixwînim, bibim mamosta, fêrî keçan bikim. Ez ê ji bo dapîr û bapîrê mi bi tendurist bin ji wan re dermanan bikirim."
"Ez ji Talîbanê qet hez nakim"
Meryem Matîn a keçeke din a heft salî ku me pê re hevpeyvîn kir, wiha axivî: "Ez li dibistanê xwendekara pola yekemim. Ez qet hej Talîbanê nakim. Ji ber ku dayika min mamosteyê û nikarê biçe dibistanê. Ez her tişt ji dayika xwe dixwazim lê ew dibêje perê me tune ye.  Pereya bavê min carna ji aliyê Talîbanê ve tê dayîn, carinan jî nay dayîn. Em sê xwişk û bira ne, xwişka min a mezin ji diçe pola heftan.  Ew jî ji ber ku nikare biçe dibistanê hej Talîbanê nake. Dema ku mezin bûm, dixwazim Talîbanê hilweşînim. Ez dixwazim ji bo xwişk û dayika min biçin dibistanê xwe bixebitim û ez mûçeya hemû bavan bidim ku ji bo hemû tiştên ku keçên wan dixwazin bikirin."
"Gelek pirsgirêkên me hene"
Esma Aref a 11 salî ku bi xwişka xwe re li kolanên Kabîlê maskeyan difiroşe, wiha got: " Em şeş endamên malbatekê ne. Bavê min nexweş bû û mir. Ez û xwişka xwe bi firotina maskeyan û alîkarî kirina hin kesan rojê 50 pereyê Afgan qezenc dikin. Gelek pirsgirêkên me hene. Em li gorî vî pereye tenê dikari rojê 5 nanê hişk bikirin. Ez û xwişka xwe dixwazin bixwînin ji ber ku kesên xwendewar dikarin jiyanek xweş derbas bikin."
Em difikirin ku çîrokên jiyana dijwar ên zarokên Afganî, çîrokên herî xemgîn ên cîhanê ne ku dilê mirovan diêşîn in.